Taking the Shot—How to Optimize Your Airbnb Photography
The best way to set your short-term rental apart from the crowd is to learn the best practices of Airbnb Photography, and apply it to your rental listing.
With the increase in short-term rentals on platforms like Airbnb and Vrbo, standing out can feel impossible. Travelers are much more familiar with these platforms and are savvy shoppers when it comes to listings. The best way to catch their eye is to present your property in the best light possible with clean, professional-looking Airbnb photos.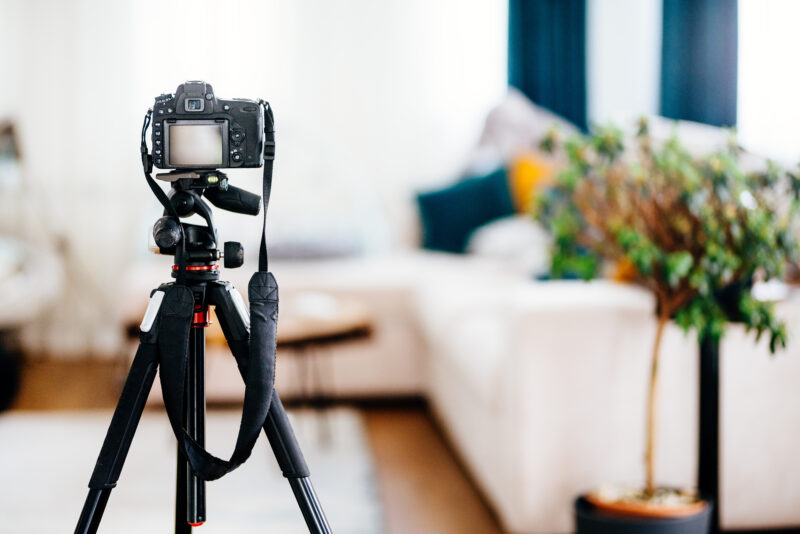 Take a Walk
Before you start shooting, walk your home or property. Take your time, imagining yourself as a guest walking in for the first time. What immediately strikes you? Is it the view out the windows? The fireplace? The size of the bedrooms? Or the cozy décor? Whatever it is, keep note of it as you will want to highlight it in your photos.
Look for "wow" moments on the property. These are settings, views, or rooms that make the space feel luxurious, fun, or special. If your property is a waterfront, you'll want to highlight what it's like stepping out the back door and seeing the beautiful water. If the mountains are extraordinary out the large dining room window, show a potential guest the view they'll have over breakfast. If the bathroom is newly redone, feature the new space.
If you need help creating a shot, you can use a frame finder. A frame finder is an index card or piece of paper with a 1"x1.5" hole cut out—the proper ratio to fit the requirements for Airbnb photos. The idea is that you hold the index card up and block out everything that won't be in the shot. The frame finder gives you a better idea of what will be seen in the shot and the overall composition. While holding the card, you can shift angles, turn lights on and off, and adjust before you hold the camera.
Walking the property also gives you an idea of potential risks to your guests, which you have not noticed prior. Overall this will give you a better idea of how to market and tag your listings to put them in front of the guests most likely to book.
Understanding your space will ultimately give you the best Airbnb pictures and the best listing.
Lighting—the Make-or-Break of a Photo
It's recommended to photograph your property early in the morning before the sun is too high in the sky, or in the evening before it starts getting dark. Intense light can wash out colors and limit contrast, making your photos feel unappealing and drab.
You should look for light that is abundant, but not intense. Keep the main light source, be it the sun or another light source, over your shoulder or on your back.
Utilize secondary sources of light, especially inside your rental. The last thing you want is for your rental to appear dark as a cave and unwelcoming. Turn on lamps in particularly dark corners or place them behind you to add additional light to the space. This is where your initial walkthrough comes in handy. You can note areas where you may need to adjust the light in order to get the result you want and produce the best Airbnb photography.
Remember the Rule of Thirds
A key element to taking beautiful photos for Airbnb is composition. Balanced composition is more appealing to the eye and will resonate positively with the viewer.
A general rule of thumb for clean composition is the rule of thirds, which gives a framework for composition. A frame can be split horizontally into thirds, with major elements of the photo falling on those horizontal lines. In the example above, you can see that the roof falls on the line of the top third, and the horizon and the garage doors fall on the bottom third line. Following this rule gives a balanced composition.
Now, this rule isn't always applicable—especially on interior shots—but using this rule as a guide will give you an overall cleaner image if kept in mind, and produce the best Airbnb photos.
Find Your Angles
A key advantage to doing a walkthrough before you start shooting is that you can check the angles of your shots and play around with them to get the perfect Airbnb photography. For example, if you have an outside deck and you're shooting with the sun directly behind you, your deck will be well-lit, but your shadow will also be present in the image if you shoot straight on. However, if you rotate slightly you can still get the whole of the deck in the shot, but avoid seeing your shadow in the final product.
The photos below show what this looks like when taking your photos. Notice also that part of the home is covered by a tree in the first photo while changing the angle gives a less cluttered shot.
Additionally, you want your photos to give the viewer a sense of space and the flow through the rental. The photo below illustrates one of these angles. From this vantage the viewer can see three of the living spaces—the living room, dining room, and kitchen—and how the lower floor connects to the second floor. Shooting from a corner like this offers a better understanding of the space and are overall more interesting Airbnb photos to look at. If these photos were taken from a straight-on angle where only the one space is shown, it can be more difficult to piece together where everything is. When this style of composition is employed, it's easier for the viewer to imagine themselves in the space and can increase the want to book your rental.
Edit Your photos—But Not Too Much
Most phones have some editing capabilities, but it's important to not go too much when editing. If editing in the camera app on either iPhone or Android, there is an auto edit function that will adjust your photo for clarity and color. If that auto adjustment isn't to your liking, adjust the exposure, brightness, contrast, and brilliance to your liking. If your photo feels very flat, you may adjust the warmth and color. Play around with the settings until you find a balance that feels appealing but is true to how your property looks in real life.
If you want to try something a little more advanced, Adobe does offer a trial of Photoshop. There are many tutorials on photo editing in Photoshop available online, and it can be helpful to follow along with one of these.
If you're looking for something easier, Colour Tone is a free app that has prebuilt filters for editing and is much faster than adjusting photos manually.
Overall what you're looking to do with editing is to not change the photo so much that it is no longer true to the beauty of your short-term rental, but rather enhance it. Airbnb pictures are a selling tool and are intended to show off your property in the best way possible. Edits should be minimal and showcase the best parts of your Airbnb.
Aesthetic isn't everything Showcasing the Benefits of Your Short-term Rental
Having the best photography for your Airbnb is not only a selling point in terms of aesthetics, but also sets expectations for your guests. If your short-term rental is a lakefront property, including images of the safety precautions, dock or landing, or equipment available gives potential guests a better idea of what to expect during their stay.
The same applies for how you take the photos. As stated in the above section about finding the best angles, showcasing the size of the space gives your guests an accurate idea about the size of the bedrooms and living space. If the photos are taken at an inopportune angle and make the space appear smaller than it actually is, a potential guest may go with a different listing.
Finally, if your short-term rental has unique décor or furnishings, images showcasing the character of your listing prepares your potential guests. Very few things lead to a bad review faster than a guest expecting a cozy cottage to curl up in, and instead finding a large open-concept space.
You're Seeing an Uptick in Bookings–Now What?
Once you have winning photos, bookings will increase. With that comes additional concerns to think about as you run your business.
What if one of those risks you picked out during your walkthrough comes to fruition and a guest is injured? What if the décor was so nice and just like in the photos a guest decided to take some home? What if a guest damages the property and you are unable to rent for some time? With more bookings comes more risk.
Short-term rental insurance can cover these situations Regarding liability, intentional acts of theft, and loss of business income coverage. Loss of business income is coverage can be applied to situations in which you lose out on the income you would normally make due to damage to your rental.
Quote Your Short-Term Rental Today
Guests love to see a short-term rental in its best light and mastering the art of Airbnb photography increases the value of your listing. But with more guests comes more risks, and it's important to protect your short-term rental and keep it looking just like your photos. But with the correct insurance your rental, your business income and you will be protected. Our policy of $1,000,000 in commercial general liability insurance with additional coverages ensures just that and will protect your investments in your photogenic rental.
Proper Insurance specializes in policies made for short-term rentals. Proper leads the Nation in short-term rental insurance, with over 100,000 policies written in all 50 states. Backed by Lloyd's of London and exclusive endorsements from vacation rental leaders such as Vrbo, Proper Insurance is built on world-class insurance coverage. Proper's policy covers vacation homes, townhouses, condos, duplexes, cabins, cottages, apartments, and more. With expert vacation rental underwriters, we can tailor a policy specific to your short-term rental property.