Moving into the summer, the short-term rental industry has begun reaping the rewards of pent-up demands for travel and vacations. As you prep for inbound guests there are plenty of safety concerns to consider. Currently, the industry is abuzz with tips on how to ensure a safe stay for your guests with new standards following COVID-19. A sparkling clean home is definitely important, however, we want to focus on commonly overlooked safety features, specifically, proper standards for guardrails and handrails in your home. 
While it might not sound like the most exciting topic, fully understanding specific risks in your home is the best way to ensure a safe stay for your guests and protect yourself against potential lawsuits.
Understanding Negligence
Before we get into railing specifics, we need to discuss negligence and how it's relevant to your vacation rental.
Simply put, negligence is the failure to "take care in doing something". Once someone agrees to pay you for a service such as renting your home, you must take greater care in evaluating risks in your home. It's "negligence" that puts you in a position where a renter and their lawyer may see an opportunity to prove that their injury was a result of your inattention to safety details.
When it comes to lawsuits in the U.S., you can be sued for just about anything, and there are endless opportunities for accidents in a vacation home. This is of course where insurance comes in. However, even insurance has its limitations, and if a guest can prove your negligence caused their injury, the more likely you are to exceed your insurance liability limits. On the other hand, the more you focus on safety in your home the less opportunity for negligence on your part. If there were an injury, this effort would not only increase your insurance company's chances of winning the case but greatly reduce the potential payout ordered by a judge.
Why is it important to address railings in your rental? 
From an insurance perspective, claims due to slip and fall are quite common, so anything you can do to reduce this exposure is a great place to start. The truth is you simply don't know who's staying in your rental. Handrails on interior and exterior stairs can greatly reduce the chance of someone slipping and falling, and bunk bed railings greatly reduce the likelihood of someone falling off of your bed. This seems obvious but it may surprise you how many listings neglect to address these issues either because it's not a requirement or railing creates an undesired aesthetic. Most simply don't consider the risk. 
Handrail Liability
If you have stairs or overhangs, you'll want to first make sure that the railings in place are sufficient. Open staircases without handrails or guardrails can cause serious injury to guests, whether they arrive at your home in the dark or simply aren't familiar with your property. Before you rent your home out to paying guests, we encourage you to think about your home as a business and implement appropriate safety measures. 
Many lawsuits actually involve insufficient handrails. A great example of this are enclosed stairwells with no handrail attached to the wall. While the walls on both sides ensure someone will not fall off the stairs, it does not keep them from falling down the stairs. You have to consider that the balance and mobility of your guests may vary widely. Often a simple railing to grasp is the difference between a stumble and a tumble.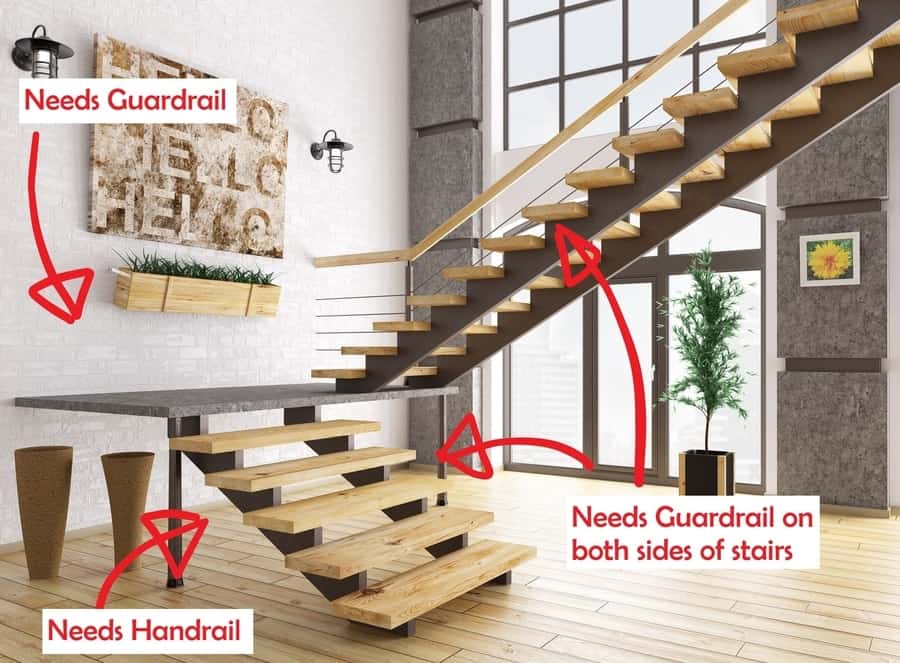 Above is another example of inadequate railing. On the top section of the stairs you'll notice that while it has a hand/guardrail on one side, it is missing on the other, making it easy for someone to fall off the side of the stairs. Additionally, the middle platform is tall enough that it should have a guardrail to prevent falls. While there are exceptions, typically platforms taller than 2ft should have guard railings and stair sets with more than 2 steps should have handrails for guests to grasp. Lastly, all guardrails and handrails should have spindles or crossbars whether necessary to keep children from falling through.
Building Code Standards
We often hear hosts reference local building code and safety based on local 'requirements'. While this can be a good place to start, much of what you will find in local code pertains to the personal use of your home. Local building codes don't take into account commercial use of your property such as short-term rentals, so there are many risks they fail to address. Additionally, standards for local building codes may vary. For this reason, we recommend following international building code standards and analyzing individual risks in your home from the perspective of a guest.
Bunk Bed Liability
Bunk beds are another huge liability concern and could cause severe injury to your guests. This is an important amenity to review before renting your home. Are the beds safe for your guests and their children? Federal law mandates that all bunk beds have at least 5 inches of the railing above the mattress to keep people from falling off and that all ladders are affixed. Unfortunately, purchasing a bunk bed doesn't ensure these safety measures are in place. 
Bunk beds aren't a searchable amenity on Airbnb, and we recommend not including them if possible. However, as long as you have adequate railing and ladders they're acceptable for Proper Insurance.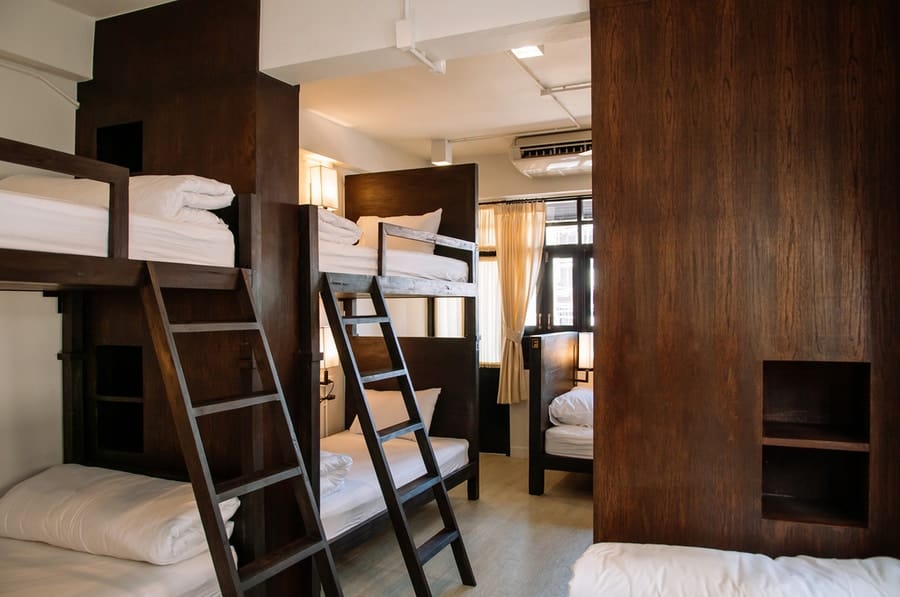 Peace of mind with Proper underwriting
Adequate handrails and bunk bed rails are an underwriting requirement of many insurance carriers because they are a 'known risk', meaning they've seen a high number of lawsuits involving these items in the past. Underwriters may ask that you make changes to your property such as adding handrails in order to continue the insurance contract, however, if there was an injury at your property your liability insurance would respond. 
While this requirement may seem like a barrier to entry, there is typically a grace period in which the underwriters will notify you of potential risks and give you an opportunity to correct the issue without a gap in coverage. Choosing a carrier with underwriters experienced with short-term rentals can be a huge help as they will review your property for potential risks. They've seen thousands of listings and hundreds of lawsuits making it easy for them to identify issues before an accident.
Ultimately, when accidents happen, you call your insurance carrier. If your property is underwritten and insured according to its use as a short-term rental you'll have liability coverage. For this reason, it's important to be open with your insurance carrier and ensure safety measures are appropriate for commercial use, not only your personal use. 
Quote your short-term vacation rental today
Interested in a policy to protect you and your business from liability claims? Proper Insurance leads the Nation in short-term rental insurance, with over 40,000 policies written in all 50 states. Backed by Lloyd's of London and exclusive endorsements from vacation rental leaders such as HomeAway and Vrbo, Proper Insurance is built on world-class insurance coverage. Proper's policy covers vacation homes, townhouses, condos, duplexes, cabins, cottages, apartments, and more. With expert vacation rental underwriters, we can tailor a policy specific to your short-term rental property.
Subscribe To Our Blog:
Want to stay up to date on short-term rental news, regulations, and more? Simply subscribe for blog updates.