Why Property Entrustment is so Important for Hosts to Understand When Choosing an Insurance Policy
With new short-term rental owners, we often hear the question: "Why can't I just keep my homeowner's policy?" While the answer can be complex, there are several key exclusions found in traditional homeowner's policies that make it very risky for hosts. One such exclusion is often centered around language defining "property entrusted to others" or "dishonesty"andit's become one of the biggest gaps in insurance for STR (Short Term Rental) owners. Basically, this language makes it so that the simple act of handing your keys to a guest may greatly limit or void coverage for some claims entirely, and it'sextremely important to understand how lack of coverage for property entrustment* could impact your business and bank account.
In this article you can find: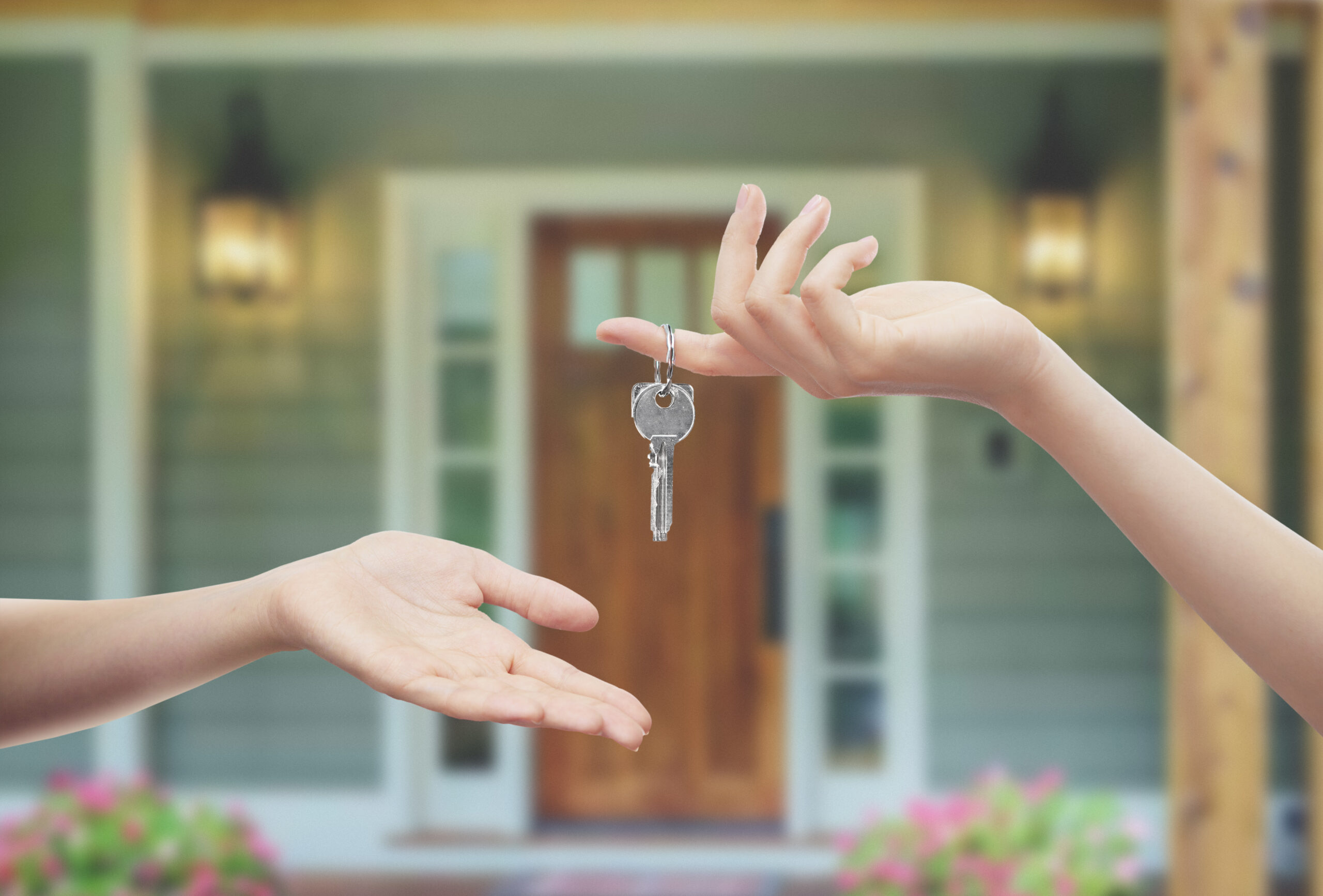 Does Your Current Policy Include the Following Items?
Property Entrustment to Others Limitations. Also known as 'malicious acts', such as vandalism and theft by a guest of your home, this language is built into policies to disallow an insured from benefiting from an insurance policy for the losses that result from dishonest acts, such as theft, by either the insured or anyone to whom the insured has entrusted the property to. Being that the person who was trusted with the property is in a position of confidence with the insured, homeowners' insurance companies do not want to pay for the mishaps that occur as a result of the insured's poor judgment of character (Ie: Malicious behavior such as a party).
If your insurance policy has an exclusion or limiting language for property entrustment* to others and a guest has done damage to your rental, intentional or accidental, your insurance may NOT respond to the incident given that this language is written in your policy. These incidents can range from property damage due to a party or a guest simply cleaning out your home and driving off in a U-Haul.
Property Entrustment with Landlord Policies. Here is an example of what it looks like when your insurance policy has a 'Malicious Acts' exclusion written within their policy. Nashville short-term rental host, Brady Mills, rented his property to guests who threw a raging party and caused $10,000 in damage to his property and $2,000-$3,000 in loss of business income. Mills had assumed that his policy would cover him in a situation like this, but he was wrong. He was left to pay out of pocket for all the expenses accrued because his insurance company didn't step in to help cover the costs. This is a clear example of finding out the hard way that it's important to make sure that your insurance policy is right for your vacation rental.
Occupancy Restrictions in Homeowner's Policies. A very common term that can be found in your homeowner's insurance policy is 'residence premises'. This is shown on the declarations page and typically includes the one- or two-family dwelling, including other structures, and grounds where an insured resides or intends to reside within 60 days after the effective date of the policy. The reason for this is that insurance companies understand that theft, vandalism, and even tree damage are less likely to occur in occupied, consistently maintained homes. Second homes, however, spend more time vacant and unmonitored.
As a vacation rental owner, you most likely own and live at more than one property, so if the policy covering your vacation rental specifies that the home must be your 'residence premise', you may be violating the policy language simply by not making that home your primary residence. So, in the case of an incident at your vacation rental your insurance could deny your claim and leave you to deal with it on your own. Below is just one example of a claim that was denied due to the owner's insurance policy noting that it must be their 'residence premises'. Fire Damage Claim Denied. In 2012, a couple purchased a house intending to live in it but after six months they had moved to another location and decided to lease out the property. A couple of months later there was a house fire that severely damaged the leased property. The Serpikova family filed a claim with their insurance but were denied due to the fact that the home was not their 'residence premises'. They were informed that since they did not reside at the location at the time of the loss, the property did NOT fall within the policy's limits that were required.
If you are unsure what is written in your policy and whether you have these items included, it is extremely important that you talk to your broker to ensure that you are correctly covered.
Know You are Covered with Proper Insurance
At Proper Insurance, we've custom penned a policy specifically for short-term rentals. To do so, we have removed all occupancy restrictions* as well as the exclusionary language for property entrustment* and there is nothing written about 'residence premises'. With the property entrustment-related exclusion removed, our policy is built to respond to incidents caused by your guest staying at your vacation rental. Proper may reimburse you for property and/or contents damages up to the limit chosen on your policy. If you were unable to rent the property due to damages, you may receive payment for business income loss* up to your chosen limit for the time you were unable to rent. For example, if you had specified that contents were valued at $80,000, and your business income limit was set to $30,000, Proper may pay up to these specified limits. Below you can find real-life examples of property entrustment coverage assisting our clients and what it could have looked like without Proper Insurance.
Actual Claims Examples Paid by Proper Insurance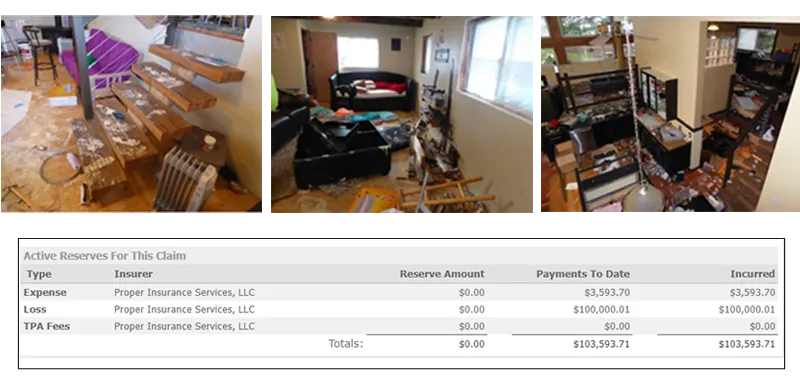 $103,593.71 Payout Due to House Party Damage. As you can see in the photos below this client of Proper Insurance had the worst-case scenario happen to a vacation rental owner when it comes to damage caused by a guest.
Our homeowner received a phone call from their neighbor in the early hours of the morning expressing that they had called the police but there were over 100 people at their home, cars parked in the yard, furniture being thrown in a bonfire, etc. The police shut down the party, but the damage had already been done.
As you can see, the total payout for damages is $103,593.71. This is what was paid by Proper Insurance and Lloyd's of London for the damage caused by a guest. Fortunately, this homeowner had Proper Insurance policy and was not left to deal with this mess out of pocket like the aforementioned Nashville house party.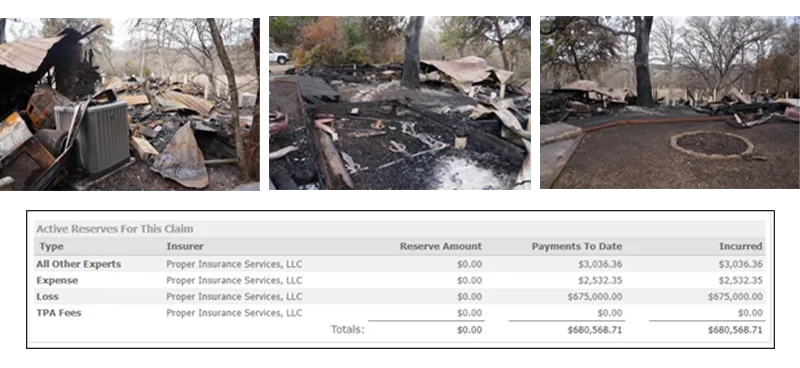 $680,568.71 Payout Due to Guest Burning House to Ground. On New Year's Eve 2019, one of our clients had the terrible experience of a guest burning down their home. The guests left the property and had left embers burning in the house fireplace. A log or ember made its way out of the fireplace, and it turned into a full-blown house fire.
Proper immediately responded to this situation and paid our client $680,568.71 for the property damage and loss.
For many of our clients, their biggest concern is any of the above happenings to their beloved home. We urge you to consider this as you are deciding which policy you want to insure your rental with. It is a simple fact that other companies marketing coverage for vacation rentals could easily not respond to these losses via the exclusion for "Malicious Acts", vandalism or theft, via property entrustment* found in their policies. We aren't trying to scare you from renting your property out but simply want to educate the reader on the fact that these incidents do happen, and the retail insurance market tends not to cover it by denying the claim. While we might be more expensive than most policies, this is because we are covering these large types of losses, so you do not lose everything you worked so hard to acquire.
Verify Your Insurance Coverage Today
Interested in a policy to protect you and your business from a guest's mistakes? Proper Insurance leads the Nation in short-term rental insurance, with over 100,000 policies written in all 50 states. Backed by Lloyd's of London and exclusive endorsements from vacation rental leaders such as Vrbo, Proper Insurance is built on world-class insurance coverage. Proper's policy covers vacation homes, townhouses, condos, duplexes, cabins, cottages, apartments, and more. With expert vacation rental underwriters, we can tailor a policy specific to your short-term rental property.
Insurance Glossary
*Loss of Business Income: Income that is lost due to a slowdown or suspension of operations of the business. For example, a vacation rental owner could experience suspension of business when there is time required to repair or replace the damaged property and the income loss would be covered up to the specified amount in your policy.
*Occupancy Restrictions: these restrictions cover the insured policyholder but would insure the policyholder for anyone else's actions.
*Property Entrustment to Others: One of the exclusions that would fall under Occupancy Restrictions within a policy. This exclusion is to disallow an insured from benefiting from an insurance policy for the losses that result from dishonest acts, such as theft, by either the insured or anyone to whom the insured has entrusted the insured property to. Being that the person who was trusted with the property is in a position of confidence with the insured, insurance companies do not want to pay for the mishaps that occur because of the insured's poor judgment of character (Ie: Malicious Acts.)