More Property Managers Partner With Proper Insurance®
As a property manager, you know the importance of helping your owner's secure income. Well, now you can secure your income too. With coverage from Proper Insurance, not only will your client's short-term rental business income be covered, but your commission income can easily be protected as well.
Refer the Proper Coverage to Your Owners
Rest assured knowing you and your owners are properly covered with:
Property Manager Commission Income Protection – A first-of-its-kind endorsement built into every policy
$1,000,000/$2,000,000 in Commercial General Liability – Automatically extends to Property Managers
Liability extends off-premise and covers amenities such as bikes, golf-carts, pools, hot-tubs, and saunas
And much more…
Advantages of Partnering With Proper Insurance
When you refer owners to Proper Insurance, we refer you!
Every new client gets asked during the quote process (as seen below) if they would like a referral to a property manager. Many of our clients are new to the vacation rental industry. Their rental properties are often new purchases and they need a good property manager referral. This is where you need and want a relationship with Proper.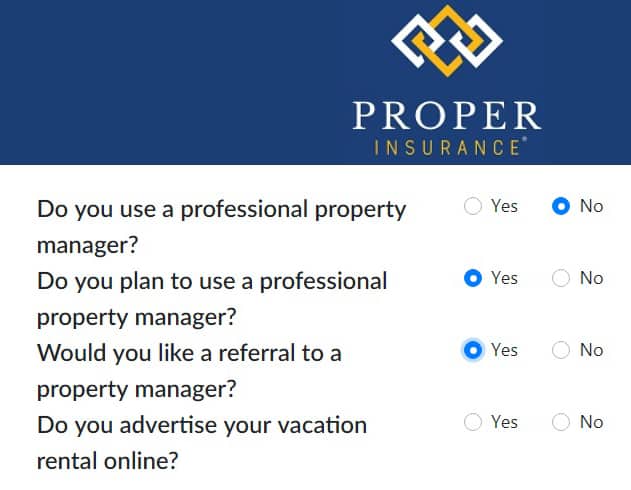 Hear What Property Managers Are Saying About Proper Insurance
Call Proper At (888) 631-6680, It's That Simple!
More property managers advise their owners to call Proper Insurance, because we offer the broadest vacation rental insurance policy on the market. You must put your owner's interests in mind first. We know our competitor's coverages and their pricing. Proper wins every time. Please take a minute to review our policy highlights in our program brochure found below.
Have your owners asked about insurance?
Have they specifically asked whether they need a special policy for a short-term vacation rental? Many property managers are hesitant because insurance is complicated and they don't want to recommend the wrong coverage. Now you know. You are the expert in the industry and having a referral like Proper Insurance is a value-added service to your owners.