Updated Airbnb Laws and Regulations in Iowa- What Hosts Need to Know
Iowa, like many states, is continuing to update Airbnb laws and regulations as the need for short-term rentals increases. By updating current Airbnb laws and regulations, both hosts and guests are better protected. Iowa has currently updated insurance requirements for short-term rental hosts in Des Moines and continues to look at developing the laws and regulations in the future. As legislation continues to change, hosts should look for short-term rental updates within local municipalities.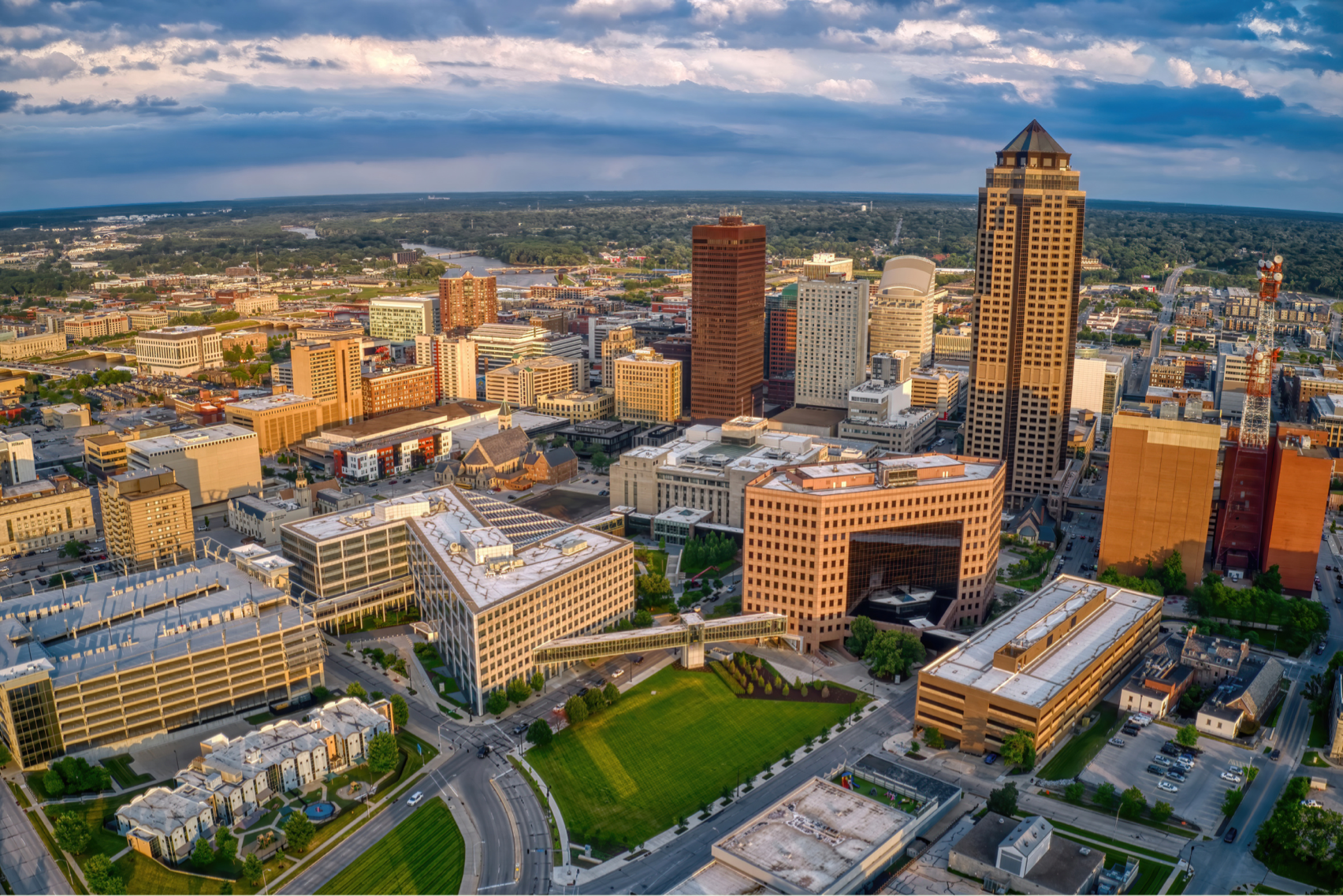 Des Moines Iowa Updates Insurance Requirements for Short-Term Rental Hosts
Des Moines is another major city that has recently updated Airbnb laws and regulations. They are now requiring hosts to secure liability insurance at a minimum of $500,000. "Such coverage shall defend and indemnify the owner, any named additional insured, and any tenants in the building for their bodily injury and property damage arising from the short-term rental use." According to the City, hosts may choose to secure this coverage through designated listing platforms. Although that can be an option, read below to understand how a policy through a listing site compares to a comprehensive commercial insurance policy package.
The city also updated all licensing and registration fees, permits and zoning, and exterior and interior requirements. Main updates to the regulations include:
All sidewalks, walkways, stairs, driveways, parking spaces, and similar areas shall be kept in a proper state of repair and maintained free from hazardous conditions.
Every handrail and guard shall be firmly fastened, returned to the wall and capable of supporting normally imposed loads, and shall be maintained in good condition.
Premises and exterior property, including fence lines, shall be maintained free from weeds or plant growth in excess of 12 inches, and all noxious weeds shall be prohibited.
All structures and exterior property shall be kept free from rodent harborage and infestation.
All accessory structures, including detached garages, sheds, fences, and walls, shall be structurally sound and in good condition. Structures shall be only used for tenant occupant use.
No inoperative or unlicensed motor vehicle shall be parked, kept, or stored on the property.
The rest of the updated laws and regulations on an inspection checklist can be found here.
Do Listing Platforms Provide Property Coverage?
First, it's important to understand this is for liability coverage and does not cover property damage, i.e. a guest accidentally sets fire to your rental or vandalizes or steals your personal property. There is no coverage for water damage, wind damage, or anything property related at all. Also, there is no coverage for lost income in the event of a property claim, such as fire, water damage, or theft. This means hosts must still maintain a property insurance policy that will respond to property damage in general and property damage caused by a guest.
Why Choose a Comprehensive Policy Over a Limited Booking Platform Policy?
The bottom line is nothing in life is free, and free Airbnb and Vrbo liability coverage is simply a way for them to better compete and get more bookings through the platforms. As a vacation rental owner, you should feel good about purchasing a Proper Insurance policy, and having comprehensive coverage for both property and liability, including your building(s), contents, income, and $1M of commercial general liability.
Do Listing Platforms Provide Liability Coverage?
There are liability exclusions found in both the Airbnb Host Protection and the Vrbo offering that are not standard in commercial general liability. One is personal and advertising injury, which is excluded from both. This means there is no coverage for "invasion of privacy" which is a common claim in the short-term rental world, and one that carriers have had to defend. The U.S. is a litigious society and guests can sue for just about anything, with invasion of privacy being an easy suit.
Even more concerning is the fact Airbnb excludes assault, battery, sexual molestation, communicable disease, and much more. Liquor liability is also a standard exclusion in all commercial general liability, so unless it's specifically endorsed and added to the policy, there is no coverage.
Quote Your Short-Term Vacation Rental Today
Interested in a policy to protect you and your business from liability and damage claims? Proper Insurance leads the Nation in short-term rental insurance, with over 100,000 policies written in all 50 states. Backed by Lloyd's of London and exclusive endorsements from vacation rental leaders such as HomeAway and Vrbo, Proper Insurance is built on world-class insurance coverage. Proper's policy covers vacation homes, townhouses, condos, duplexes, cabins, cottages, apartments, and more. With expert vacation rental underwriters, we can tailor a policy specific to your short-term rental property.
Given that STR laws and regulations are always changing, we rely on our community to keep us informed. If you have any additional information or updates relating to our posts, let us know at info@proper.insure!