How to Navigate the Constantly Changing Airbnb Laws and Regulations in Michigan
At the end of 2021, Michigan lawmakers considered legislation that created a one-size-fits-all law regulating short-term rentals like Airbnb and Vrbo. This bill was passed quickly in the House, and residents were concerned that the proposed bill would bar local governments from enforcing ordinances that ban short-term rentals. House Bill 4722 would also restrict how Michigan communities regulate short-term rental properties by allowing only 30% of homes in a community to be used as permanent vacation rentals. Up until October 4th, 2022, the bill has not progressed any further in the Senate. The state of Michigan continues to debate which Airbnb laws and regulations are best for residents, hosts, and incoming short-term rental guests.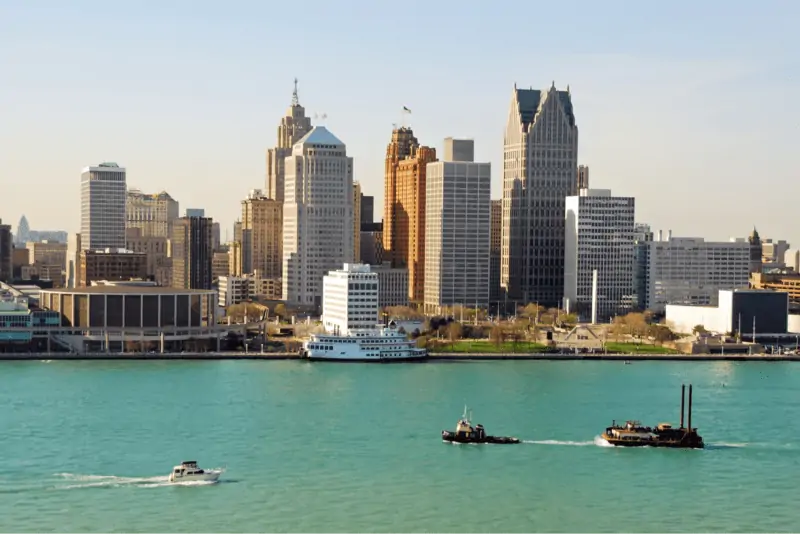 Limited Airbnb Laws and Regulations in Ann Arbor, Michigan, Create Friction Between Officials and STR Hosts
Rental guests visit Ann Arbor for numerous reasons, such as sporting, academic, and cultural events. With this constant flow of tourists, there is an ever-growing market for platforms such as Airbnb and Vrbo. Because of this influx in tourism, city officials grew concerned that short-term rentals may pose a threat to the hospitality industry. Officials quickly considered regulating short-term rental policies and changing Airbnb laws and regulations. In September 2020, the city approved an ordinance requiring the annual registration of short-term rentals within the city to make sure that they are compliant with the Ann Arbor city code.
Although this ordinance was passed, many city residents feel as if short-term rental regulations are not strict enough and want regulations enforced for the sake of the community. As decisions are still up in the air, residents look towards House Bill 4722 for clarification of Airbnb laws and short-term rental regulations.
House Bill 4722 has four main components:
It would bar local governments from enacting or enforcing ordinances that ban short-term rentals;
It would place a cap on the total number of short-term rentals to 30 percent of all residential units;
Local governments could limit an owner or ownership group to two short-term rental properties;
Local governments could regulate and inspect short-term rental units for noise, advertising, traffic, or other disruptive conditions.
As tourism continues to swell in Ann Arbor after the COVID-19 pandemic, discussions of increased zoning restrictions, tax ordinances, and guest limits continue to circulate around the community. Short-term rental hosts should continue looking for updates on House Bill 4722 to see if any further regulations are passed or enforced.
Minimum Day Requirements of Short-Term Rental Airbnb Laws enforced in Burtchville Michigan
Burtchville Township in Michigan held a hearing on October 3rd regarding Airbnb vacation rentals in the area. Short-term rentals are currently allowed, but they will be heavily regulated after numerous complaints were received by the county, notably from residents in the Lake Huron area.
The regulations for property owners that were discussed include permit requirements, a limit of 7 to 30-day stays, guest limitations, and restrictions on late-night activities.
Short-term rental hosts must also follow the requirements listed below:
A short-term rental is a rental of residential property for a minimum of seven (7) days and less than thirty (30) days. Short-term rentals of six (6) days or less shall not be permitted.
The property owner shall designate a property manager, who shall reside within 25 miles of the property and provide 24 hours a day, seven days a week, contact information for the manager during all times the premises are rented.
The property owner shall provide proof of liability insurance covering the short-term rental activity.
Clay Township, Michigan Regulates Airbnb Laws for Short-Term Rentals Due to Previous Local Disturbances
The Clay Township Board of Trustees has recently adopted a short-term rental ordinance to regulate vacation rental properties. On Aug. 2nd, 2021, the ordinance was passed with a 6-0 vote, and the new ordinance is now in place. During the meeting on Aug. 2nd, 2021, several residents stepped forward with complaints about short-term rentals in their neighborhoods causing disturbances.
General Short-Term Rental Regulations in Clay Township
All vacation rentals shall meet the following standards:
All vacation rentals shall be registered with the Township. The short-term rental of an unregistered dwelling unit as a vacation rental is prohibited. The registration shall be accompanied by a registration fee established by resolution of the Township Board.
The term of registration shall be 2 years from the date of issuance by the Township. Registration renewal shall be required for all registered vacation rentals in accordance with this Ordinance prior to expiration of the registration term. Any change to property ownership during the term of registration shall require a new registration in accordance with this Ordinance.
A vacation rental shall not be registered without proof of a valid occupancy permit by the property owner and Zoning Complaint Permit issued by the Building Department.
In order to register a dwelling unit for use as a vacation rental, the property owner or owner's local agent shall provide and certify as true on a form provided by the township:
Name, address, and telephone number of the property owner. Any change to property ownership during the term of registration shall require a new registration in accordance with this ordinance.
A statement certifying that the property owner shall consent to inspections by the Township and will, upon reasonable notice being provided, make the dwelling unit available to inspectors upon request of a mutually agreed day and time. A copy of this registration form shall be provided to the Clay Township Police Department to assist with any 911 or non-emergency rental complaints.
Proof of homeowner's insurance and personal liability insurance for renter occupants.

*These are just a few of the items required to register a dwelling unit as a vacation rental; continue here for the full list of items.
Existing vacation rentals in operation at the time of adoption of this Ordinance shall have a period of 6 months in which to complete registration. Existing vacation rentals that are not registered within the time specified shall be considered in violation of this ordinance.
The maximum term of any individual rental period shall be 180 days.
The maximum advertised number of occupants shall not exceed the bedroom capacity defined in Section 3, 2., plus two per finished floor. A single-family dwelling unit containing a vacation rental shall not exceed 4 bedrooms within the dwelling unit in total.
Each vacation rental shall post, in a clearly visible location near the primary building entrance, the following notice and copies or summaries of all local ordinances referenced within items i-iii
Personal Liability vs. Commercial General Liability
Personal liability is found in all homeowner's insurance policies and protects against claims of bodily injury or property damage they could be found personally liable. It specifically excludes any coverage for bodily injury or property damage arising from "business activity." Most insurance policies define a business as something that results in more than $2500 of financial compensation during the 12-month policy period. If a short-term rental produces more than $2500 compensation, then personal liability would not respond to any short-term rental claims.
Commercial General Liability is found in business insurance policies and protects the insured against claims of bodily injury or property damage they could be found legally liable. It doesn't exclude "business activity" and extends beyond the premise, i.e., dog bite off-premises. It's the most comprehensive liability insurance one can purchase.
The difference between these types of liability insurance is astronomical and should be closely considered by hosts looking to enter the short-term rental scene as well as municipalities enforcing insurance requirements. Other hospitality entities, including bed and breakfasts and hotels, carry commercial general liability. Short-term rental properties should be no different.
Manistee Michigan Considering New Ordinances and Further Regulating Short-Term Airbnb Laws
The city of Manistee continues to debate if they want to further regulate short-term rentals. City officials have discussed the possibility of limiting short-term rentals and strengthening regulations within the community. Although there have been various discussions since 2020 surrounding the expansion of short-term Airbnb rentals, no further action has been taken. The restrictions from the 2020 council meeting are still the standard regulations today in Manistee.
At the council meeting in October of 2020, the City discussed the following items outlining restrictions on short-term rentals:
Add short-term rentals to the City's rental inspection program;
Require short-term rentals to register as a business or create a separate license and fee program with the option to revoke licenses based on complaints or the property's appearance;
Allow condo associations to decide whether they will allow short-term rentals; and
Limit the number of short-term rentals in residential districts, but not in commercial districts or the Manistee Downtown Development Authority district. The limit would be informed by the number of short-term rentals currently in the city.
Neighboring Filer Township receives Chapter 35 ordinance
Nearby in Filer Township, short-term rental regulations are now active, with the Chapter 35 Ordinance taking effect on January 7th, 2020. Airbnb hosts must secure a short-term rental license ($500 and valid for one year), undergo a property inspection, and supply their or their property manager's 24-hour contact near the main entrance of the home.
Frustration Continues for Short-Term Airbnb Rental Hosts in Detroit, Michigan
Detroit residents and short-term rental hosts alike have been waiting for updates to a short-term rental ordinance that was passed in 2019. This ordinance discusses the following regulations and more:
Residency requirement – Any property used as a short-term rental must be the owner's principal residence.
Registration required – Any short-term rental must be registered with the Buildings, Safety Engineering, and Environmental Department.
Limitations on groups – A host may not rent to more than one group of guests under more than one reservation at any given time.
Since this ordinance was enforced in late 2019, hosts have been waiting for updates on House Bill 4722. When the bill progresses pass the Senate, both hosts and guests will have more clarification on what updated regulations look like.
Short-Term Airbnb Regulations Are Sweet in the Cherry Capital of the World, Traverse City Michigan
Traverse City, Michigan, has clearly laid out short-term rental regulations for hosts within the city. Prior to listing your property online, hosts must submit a short-term rental application and obtain a short-term rental license from the city. The application must include the following details:
The vacation home rental is occupied and operated in zoning districts as authorized by the Zoning Code of the City of Traverse City.
A fire escape plan shall be developed and graphically displayed in each guest room.
Proof of insurance as required by the City Clerk.
Vacation home rental operators must post the noise ordinance hours and consumer fireworks ordinance in a conspicuous location.
A self-inspection checklist is required as part of the vacation home rental license application.
While Traverse City doesn't specifically state the type of insurance required, many cities across the US require a minimum of $1,000,000 commercial general liability. This is the most comprehensive type of liability available in the open market. (Call Proper to learn more – 866-260-1810.)
Airbnb Laws and Property Inspections
Not confident you will know what to look for when inspecting your property? Rather than listing your property blindly for rental on Airbnb, ensure your home is up to par with commercial property inspection standards.
Breezeway offers a comprehensive inspection of your Airbnb home. Their platform helps "coordinate, communicate, and verify detailed work, and deliver the best service experience to clients." The best part is you do the inspection yourself – no long wait for an inspector to visit your property.
Quote Your Short-Term Vacation Rental Today
Interested in a policy to protect you and your business from liability and damage claims? Proper Insurance leads the Nation in short-term rental insurance, with over 100,000 policies written in all 50 states. Backed by Lloyd's of London and exclusive endorsements from vacation rental leaders such as HomeAway and Vrbo, Proper Insurance is built on world-class insurance coverage. Proper's policy covers vacation homes, townhouses, condos, duplexes, cabins, cottages, apartments, and more. With expert vacation rental underwriters, we can tailor a policy specific to your short-term rental property.
Given that STR laws and regulations are always changing, we rely on our community to keep us informed. If you have any additional information or updates relating to our posts, let us know at info@proper.insure!