Airbnb Laws from the Boardwalks and Beyond—What to Know Before You Host in New Jersey
Concerns raised by residents of New Jersey cities have led to additional Airbnb Laws seeking a balance between the tourists and the residents. In the past, New Jersey cities have served as valuable tourist destinations for those travelers looking to explore nearby New York City, but in the wake of these legal changes, hosts will have to keep up with the new regulations that have passed, or that are being discussed in their area.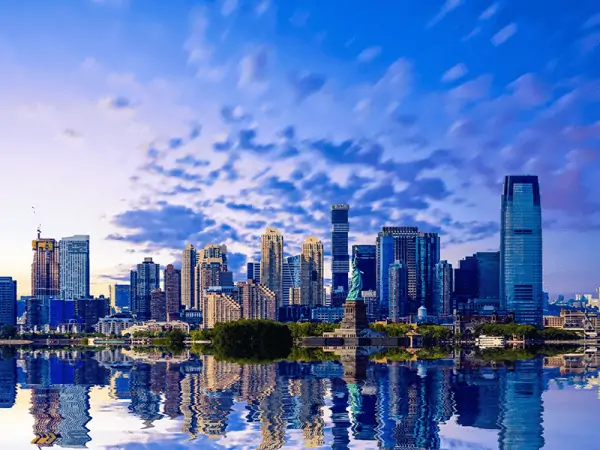 New Airbnb Laws Hosts Need to Know in Atlantic City, New Jersey
There's been much debate over Airbnb Laws in America's Playground resulting in new regulations last spring. Atlantic City now requires an annual application ($150.00) and a short-term rental license. More restrictions are being considered for short-term rentals operating under an LLC, Corp, or Partnership.
Along with the current application, hosts like yourself must provide the following:
The name, address, email, and telephone number of the owner/operator of the subject short-term rental unit.
The name, address, email, and 24-hour telephone number of the local contact person (the local contact person is responsible for responding to complaints within the hour).
The name and address of the proposed short-term rental unit.
A rough sketch or technical drawing of the floorplan of proposed rental
The City has also considered requiring hosts to provide proof of liability insurance in a minimum of $500,000. And while this requirement from the city for owners to hold insurance policies, it's incredibly important that it's the right kind of insurance. Commercial general liability is found in business insurance policies and protects the insured against claims of bodily injury or property damage they could be found legally liable.
It doesn't exclude business activity (common in a homeowner's policy) and extends beyond the premise (i.e. dog bite off-premise). Unless excluded, it also provides personal and advertising injury. It's ultimately the most comprehensive liability insurance one can purchase.
New Airbnb Laws Passed for Point Pleasant Beach, New Jersey
On Dec. 7th, 2021, the Point Pleasant Beach Borough Council in New Jersey voted and passed new Airbnb Laws after many residents complained of "party houses" in their communities. Short-term rentals have started to become an issue across the Jersey Shore, and residents have voiced concerns about the town turning into an expensive beach resort.
The new ordinance, Ordinance 2021-33, combines and revises chapters 13 and 27 in hopes of better regulating rentals in the Borough of New Jersey, specifically including short-term transient rentals. Updates to this ordinance include:
13-14.2 Short-Term Rentals Prohibited: No dwelling, or segment thereof, may be rented or leased for a term of less than a month.
13-14.3 Exceptions for Seasonal Short-Term Rental: Notwithstanding the restriction set forth above, minimum rentals of seven days or more of a dwelling unit are permitted during a period from May 15 through September 30.
13-14.5 Exceptions for Owner Occupied: Notwithstanding the restrictions set forth above owner-occupied multi-unit dwellings shall have no durations restrictions if the owner personally resides in one of the units during the time of the tenancy.
More regulations include denial of a certificate of occupancy to any owner with prior revocations or suspension of license, or with any violations of any borough ordinance, which began on January 1, 2022.
City of Asbury Park Enacts New Airbnb Laws in Wake of Host Lawsuit
The City of Asbury Park voted in February of 2020 to enact a set of adjusted Airbnb laws after resident and host Jon Biondo filed a lawsuit against the city's total ban on short-term rentals in 2017. The amended ordinance now outlines guidelines for short-term rental hosts. Here is what hosts need to keep in mind when renting.
A Short-term Rental Permit is required for all rentals renting for 30 days or less.
For each new guest, a Short-Term Rental Occupant Change Form must be submitted to the city. When you rent your property in the City, this basic identifying information is required so police, fire, emergency personnel and City Officials are aware of who is occupying the property at all times. Further, it is required to ensure that no overcrowding of the property is occurring.
An inspection once every twelve months
For properties renting over 30 days—classified as a long-term rentals—the regulations differ. The full ordinance can be found on the City of Asbury Park website.
Jersey City Residents Vote in Favor of New Airbnb Laws and Guidelines
Short-Term Rental Hosts and Operators in Jersey City are now required to follow new Airbnb Laws passed by the City Council. These stricter laws were set forth by City Council and voted on by Jersey City residents after these residents voiced concerns about rising rents in residential areas. The ordinance restricts the types of properties that can be utilized as a short-term rental and restricts the number of days the property can be rented to 60 days per calendar year unless the host is present during the rental period.
Other laws to keep in mind:
The person offering a dwelling unit for short-term rental use must be the owner of the dwelling it. A tenant of a property may not apply for a short-term rental permit, nor shall the property or any portion thereof be sub-leased by the tenant on a short-term basis.
No person or entity shall operate a Short-term Rental or advertise a Short-term Rental. without the owner/operator of the property first having obtained a Short-term Rental permit issued by the City of Jersey City's Division of Housing Preservation.
For existing Short-Term Rentals, the applicant must not have had more than one documented dangerous condition within the last year. And the applicant must have no violations of the City of Jersey City's Noise Ordinance, within the last two years.
No Short-term Rental shall be rented to persons under the age of 21
Proof of general liability insurance in a minimum amount of $500,000.00
With the enactment of these laws, it's important for hosts to understand the laws set forth in order to avoid the penalties of the law. A key requirement is proof of general liability insurance. General liability insurance protects owners from claims of harm by guests, but may not cover everything. It's important for hosts to make sure they have an insurance policy that covers them completely.
Quote Your Short-Term Vacation Rental Today
Interested in a policy to protect you and your business from liability and damage claims? Proper Insurance leads the Nation in short-term rental insurance, with over 100,000 policies written in all 50 states. Backed by Lloyd's of London and exclusive endorsements from vacation rental leaders such as HomeAway and Vrbo, Proper Insurance is built on world-class insurance coverage. Proper's policy covers vacation homes, townhouses, condos, duplexes, cabins, cottages, apartments, and more. With expert vacation rental underwriters, we can tailor a policy specific to your short-term rental property.
Given that STR laws and regulations are always changing, we rely on our community to keep us informed. If you have any additional information or updates relating to our posts, let us know at info@proper.insure!