Tennessee Airbnb Laws and Regulations- What Short-Term Rental Hosts Need to Know
Although Tennessee has begun to discuss and change previous existing Airbnb laws and regulations, there is still a long way to go. Local organizations such as the Nashville Area Short-Term Rental Association (NASTRA) are advocating for support within the short-term rental community. Organizations such as these continue to advocate for hosts and residents alike.
Airbnb Regulations in Tennessee: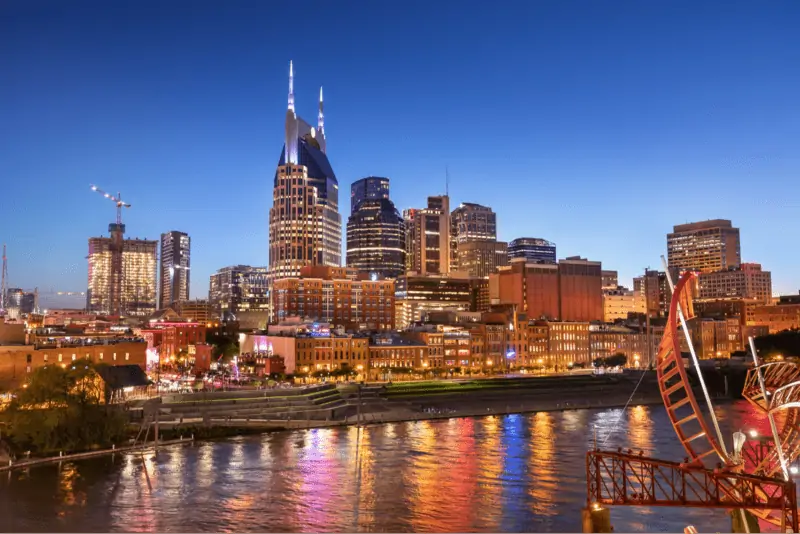 Brentwood, Tennessee
Allows Short-Term Rentals but Enforces Strict Airbnb Laws
The city of Brentwood passed Airbnb laws and regulations in order to protect residents. The municipal code protects homeowners by prohibiting rentals in single-family residential districts for periods of less than three (3) months. The City of Brentwood vigorously enforces this code and has issued various citations to hosts who continue to rent on a short-term basis under the three (3) month requirement.
Aside from the requirement and discussion of various bills in previous years, there are no further Airbnb laws or regulations stated on Brentwood's official website.
To learn more about the Brentwood ordinance that addresses occupancy in single-family zoning districts, please see the Municipal Code, Section 78-19(e).
Chattanooga, Tennessee
Passes Short-Term Rental Reform
On May 17th, 2023, Chattanooga City Council members passed a short-term rental reform. The goal of the reform is to welcome visitors to their city while also protecting the people who already live there. Mayor Tim Kelly aims to crack down on illegal short-term rentals that are affecting the quality of life of the people of Chattanooga by inflating housing prices. Airbnb and other short-term rentals that are already operating will be grandfathered in with a permit that they may renew annually.
Regulation Changes
Proof of Ownership: STR's are not permitted in residential areas unless the owner lives in the home full-time.
Location: New STR's will be allowed in any commercial district that allows a hotel.
Point Person: A local contact must be available at all times by phone, and must be capable of arriving at the rental within 2 hours.
Permitting: Any property rezoned from residential to commercial will face a cooling-off period of 18 months before an applicant may apply for a STR permit.
Fees: There is an annual renewal fee of $250 to operate a homestay. 
Violations: Any broken rules will go before an administrative hearing officer, who can charge up to $500 per day for violations.
Safety: A priority, and this means that handrails, guardrails, smoke detectors, carbon monoxide detectors, and twelve other safety codes need to be kept up to date.
Bedrooms allowed: The maximum number of bedrooms allowed for an STR is five.
Minimum stay: A minimum stay of 24 hours is enforced to ensure a level of consistency and avoid excessive short-term stays.
Parking: Adequate on-site parking must be provided.
Taxes: Compliance with city taxes is mandatory for STR's.
As cities begin to implement more strict regulations, it is becoming more important that you are operating your STR in compliance with all of the requirements. At Proper, we stay on top of these updates to ensure that you can avoid any operational mishaps. You can find more information about Chattanooga's regulatory updates on their local news site. Worried about whether or not your rental is up to your city's standards? Call Proper, and one of our representatives would be happy to go over it with you.
Nashville, Tennessee
Still Struggling to Pass Unifying Airbnb Laws and Regulations
In March of 2022, a House Subcommittee voted to advance a bill that could take away local control over owner-occupied short-term rentals. The legislation, HB 0645, appears to target Nashville, where city law requires that anyone wanting to list property as a short-term rental on websites such as Airbnb or Vrbo must receive a permit from the Metro Codes Department. There are two types of short-term rental units: owner-occupied and non-owner-occupied. Owner-occupied rentals are homes where someone lives there most of the year but rents out a room or occasionally the entire property. The bill looks to expand upon the definition of these two rental types. There is still ongoing debate over the bill, as residents are concerned that the bill will permit short-term rentals to cause disruption and conflict within the local community.
Currently, Nashville law allows unlimited short-term rentals downtown and unlimited owner-occupied short-term rentals elsewhere unless a parcel or neighborhood is voluntarily rezoned as "NS," for no short-term rentals. These regulations were passed in 2018, and Metro included a provision allowing existing short-term rentals that wouldn't conform with the then-new law to be grandfathered in until the property was sold. As the legislation waits to further progress, anyone with an active short-term rental property should stay up to date on current Airbnb laws and permit regulations such as the one outlined below:
Anyone with an active short-term rental property – not owner-occupied permit application on file with the Department of Codes Administration as of December 31, 2021, shall be eligible for that permit to be issued if all other conditions are met and if the final use and occupancy letter for the building is issued on or before December 31, 2021.
The city also requires liability insurance stating that hosts need:
Proof of insurance evidencing homeowner's fire, hazard, and liability insurance. Liability coverage shall have limits of not less than one million dollars per occurrence. In some cases, the listing company, such as Airbnb, may offer insurance to meet these requirements and provide your profile page as proof of coverage.
Local Regulations and Insurance
Proper Insurance is the nation's leading insurer for short-term vacation rentals and meets and exceeds local regulations and requirements. Many cities are introducing insurance requirements of $1,000,000 liability insurance for all short-term rental operators. With such a requirement, there is a higher standard for owners, creating a barrier to entry and eliminating non-professionals.
With a requirement for commercial general liability insurance, it's important to have a comprehensive policy. Insurance provided by platforms such as Airbnb don't fully cover short-term rentals. To ensure you're fully covered for your business activity, a commercial general liability policy is needed.
Verify Your Short-Term Vacation Rental Insurance Today
Want to protect your Tennessee vacation rental further? Interested in a policy to protect you and your business from liability and damage claims? Proper Insurance is the nation's leading short-term rental insurance provider protecting homes in all 50 states, replacing inadequate Homeowners/Landlord policies. Their comprehensive coverage meets or exceeds standard short-term rental requirements with $1M Commercial Liability (CGL) and unmatched protection for your property and revenue. Additional custom coverages include guest-caused theft/damage, amenity liability (bikes, kayaks, hot tub, etc.), bed bugs, fleas, squatters, and more.
Please note: The information provided is intended as a guide and may not be comprehensive or current. Regulations may change and could vary by area or situation. Always consult local authorities or a legal professional to ensure you have the most accurate information for your short-term rental property.