Maryland Municipalities Expand Current Airbnb Laws and Regulations
As the short-term rental market continues to rapidly expand, both rental hosts and guests need to be aware of current Airbnb laws and regulations. With the changes in rental duration, guest limits, and requirements of short-term rental liability insurance, staying educated on these regulations is pertinent.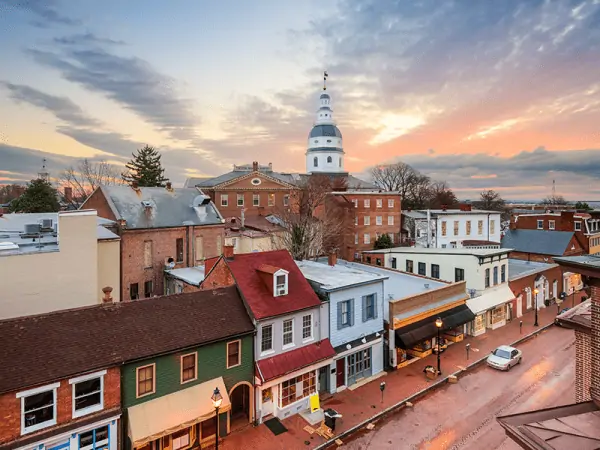 Residents in Montgomery, Maryland Face New Strict Airbnb Laws on Vacation Rentals
In Maryland, city officials of Montgomery County all voted to pass new Airbnb laws and regulations for vacation rentals back on October 10th, 2017. The regulations went into effect on July 1st, 2018 and are designed to prevent business owners from operating a "hotel-like business" within the residential districts while respecting homeowners who do list their property on short-term rental websites.
According to the ordinance, only primary residents can rent out their homes on services like Vrbo, which effectively prevents business owners and large rental companies from buying up property and listing it for rent.
Other notable changes include a limit on the rental duration, a maximum number of guests permitted, and licensing requirements.
Short-Term Rental Legislation Delayed in Baltimore, Maryland
City Council members in Baltimore recently chose to delay their plans to introduce strict new short-term rental Airbnb laws for companies like VRBO and Airbnb. The planned ordinance would have effectively banned property owners from renting out their property if it wasn't their primary residence. Other changes include increased tax rates and licensing requirements, but no mention of vacation property rental insurance was mentioned.
Update: Hosts like yourself must obtain a biennial short-term rental permit through the City ($200) and include the license number on all listing platforms. Your home must also serve as your primary residence in order to receive the permit. View the complete ordinance from the Baltimore city government website, Article 15: Licensing and Regulation.
Prince George County, Maryland Short-Term Rental $1,000,000 Liability Insurance Requirement
The Prince George County Council approved short-term rental Airbnb laws and legislation which went into effect on October 1, 2019, and September 14, 2020. These regulations require short-term rental hosts to obtain a license to operate their business. Included in the number of documents needed to process the license application, hosts must provide proof of a current and valid short-term rental liability policy of at least $1,000,000.
Details needed to obtain the Maryland short-term rental license ($150 annually) include:
Photos of installed smoke detectors and carbon monoxide detectors and photos of the required fire extinguishers.
Photos of the required emergency contact information showing it is conspicuously posted in the interior of the rental.
A copy of current and valid liability insurance of at least $1,000,000
By requiring hosts to maintain short-term rental liability insurance, the County can rest easy as insurance underwriters will essentially be vetting/underwriting the properties on behalf of the County. Ultimately a commercial general liability insurance requirement is good for owners and good for the County. It creates a barrier to entry which eliminates non-professionals, and it comes with stricter insurance carrier underwriting requirements, which may include property inspections, smoke alarms in all bedrooms, fire extinguishers, chimney cleanings, type of wiring, railings on all stairways, and a general higher level for standard of care.
In addition to retaining short-term rental liability insurance, hosts are also required to follow various regulations such as one parking space for every three guests, notifying neighbors of intent to operate a short-term rental and, having the short-term rental as a primary place of residence.
Short-Term Rental Airbnb Laws Hosts Need to Know in Gaithersburg, Maryland
Short-term rental Airbnb laws are alive and well in Gaithersburg, MD. Each host must submit a license application to operate their short-term rental and agree to set operational standards. According to the City,
"The ordinances were carefully considered to balance both the desires of the property owner to generate income through such rentals and the integrity and safety of our neighborhoods."
At this time, hosts are not permitted to allow events at their short-term rental which could include small weddings, family reunions, and other gatherings outside the normal scope of short-term rental lodging (eating and sleeping).
Short-Term Rental License Application Requirements in Gaithersburg
When submitting the license application, hosts agree to the following requirements and operational standards for their short-term rental business:
Provide a copy of short-term rental liability insurance of no less than $1,000,000 naming the City of Gaithersburg as an additional insured, throughout the duration of the license.
Provide a letter of approval of short-term rental from Homeowner's Association or Condominium Association indicating the common ownership fees are no more than 30 days past due.
Ensure that the licensed dwelling unit has a working smoke detector in every bedroom and on every level of the home and working carbon monoxide alarms have been installed on every level of the home.
Ensure that the following information is posted in a conspicuous location in the dwelling unit: emergency contact information, property address, responsible parties contact information, floor plan showing emergency/escape routes, and City of Gaithersburg Neighborhood Services contact information.
Agree to remit all local taxes and required fees.
How Insurance Fits into Short-Term Rental Laws
With the explosive growth of short-term rental properties found on websites such as Airbnb or Vrbo, communities are struggling to find common ground laws. Many communities have already passed ordinances and laws with which all have some type of insurance requirement.
Gaithersburg's short-term rental laws include such an insurance requirement, including listing the City as additional insured. It's common for entities to be added as "additionally insured" on liability insurance policies, and it's through this addition that the interested entity is afforded liability coverage.
Without this "additional insured" requirement for coverage, it's unlikely the City has any protection in the event a plaintiff names them as a defendant in relation to bodily injury or property arising out of short-term rentals in the City.
Quote Your Short-Term Vacation Rental Today
Interested in a policy to protect you and your business from liability and damage claims? Proper Insurance leads the Nation in short-term rental insurance, with over 100,000 policies written in all 50 states. Backed by Lloyd's of London and exclusive endorsements from vacation rental leaders such as HomeAway and Vrbo, Proper Insurance is built on world-class insurance coverage. Proper's policy covers vacation homes, townhouses, condos, duplexes, cabins, cottages, apartments, and more. With expert vacation rental underwriters, we can tailor a policy specific to your short-term rental property.
Given that STR laws and regulations are always changing, we rely on our community to keep us informed. If you have any additional information or updates relating to our posts, let us know at info@proper.insure!