New Nashville Law Begins July 1st 2015
We have been selling a lot of insurance policies in Nashville the past few weeks and a client informed us of this new ordinance that was recently passed by the City Counsel.  Naturally, this leads owners of short-term rentals to Google Search "short-term rental insurance", or "vacation rental insurance" and eventually to Proper, which again is GREAT for our business, but let's really take a good look at this ordinance, or PRO-GROWTH ordinance as they are labeling it.  ​
A regulation that is PRO-GROWTH?  Every neuron in my brain, if brains have neurons? and everything I know about "free market" and business is saying, Wait, What, did I hear you correctly, a city ordinance that is PRO-GROWTH?
Let's have some fun with this.  You can read the ordinance(s) HERE and then HERE.
Verbatim, " WHEREAS, short-term rental of homes can provide homeowners an opportunity to hold property in difficult economic circumstances or as an investment."
True statement.
Verbatim, "Short Term Rental Property (STRP), means a residential dwelling unit containing not more than four sleeping rooms that is used and/or advertised for rent."
So what about the guy who bought a five bedroom house when he was flush?  Nope, sorry, you RICH PEOPLE don't get to qualify as a STRP.  Only the four bedroom or less fortunate souls get to make money in this new booming trend in short term rental properties.  UNBELIEVABLE.
Just for fun I looked on HomeAway for 5 bedroom Short Term Rental listings in Nashville, yep, there are 20.  I would have loved to hear the decision making process behind that part of the ordinance.
The very problem is regulation.  Now I do understand the need for some as I have three STRP in my neighborhood.  But let's keep it simple.  What are the real issues and what can we do to solve them.  Just like the Insurance Rule of Three on our homepage.  Keep it simple.
Here is my short list.
-Hotels are required to pay taxes and they are competing against STRP.  So a tax for STRP income is fair.  The city gets tax revenue.  Done.
-Noise/nuisance complaints.  Three legitimate strikes in one calendar year and you are done.  Screen your guests.  Neighbors are cool.  Done.
-Carry appropriate insurance.  If your property is damaged or you are sued, you and your neighbors will be glad you had the Proper Insurance.  Also, hotels are required to carry business insurance, so should STRP.  Done.
Now how hard was that.
On to the issue of short term rental insurance, D2.
Verbatim, "Proof of insurance evidencing homeowner's fire, hazard, and liability insurance. Liability coverage shall have limits of not less than $1,000,000 per occurrence."
This is the right direction, but could be much better if they left out the word homeowner's and replaced it with simply, "business liability insurance."
What does the City Counsel of Nashville know about insurance and why are they advising you, the owner?  
Here is exactly what happens and has been happening because we are on the phone with our clients all day.
The first thing they do is pull out their homeowner's insurance.  Below is a copy of one of our clients who gave us permission to use these snippets.


This is the declarations page, or DEC sheet which outlines coverage.  OK, it clearly carries $300,000 in personal liability insurance, this is the norm for standard homeowner's insurance policies, $300k  So this person now needs to bump this up to $1,000,000, so he calls his agent.  Here is where you see how good, or ethical your insurance agent is.  It usually goes one way or the other.
The non ethical agent does not ask questions and says, COOL, more premium, more money for me.  He sells you a $1,000,000 personal umbrella over your home.  Very easy, very accessible, and pretty cheap, a few hundred bucks per year.  Anyone in insurance can sell you one in minutes.  So now you have $300,000 of personal liability on your homeowner's policy, the underlying policy, and a $1,000,000 personal liability umbrella.  Good, feeling good.
The ethical agent asks you some questions.  Why do you need a $1,000,000 in liability coverage?  You explain and he looks into your policy and talks with his higher ups, the actual underwriters and explains your home is a STRP and you will be having "guests" paying you money to stay at your home for short periods of time.  Basically your home is like a hotel.  He comes back and says, your homeowner's insurance is not designed to cover over "business activities".  He says he will look into it and try and find you a policy.  If he's real good, he finds Proper, and brokers the policy and sells it to you!  Or, he suggests a hotel/motel policy, or some type of rental rider, like patching a leaky raft.
Personal liability is for personal liability, and it specifically excludes business activities.  Below is the second part of the policy.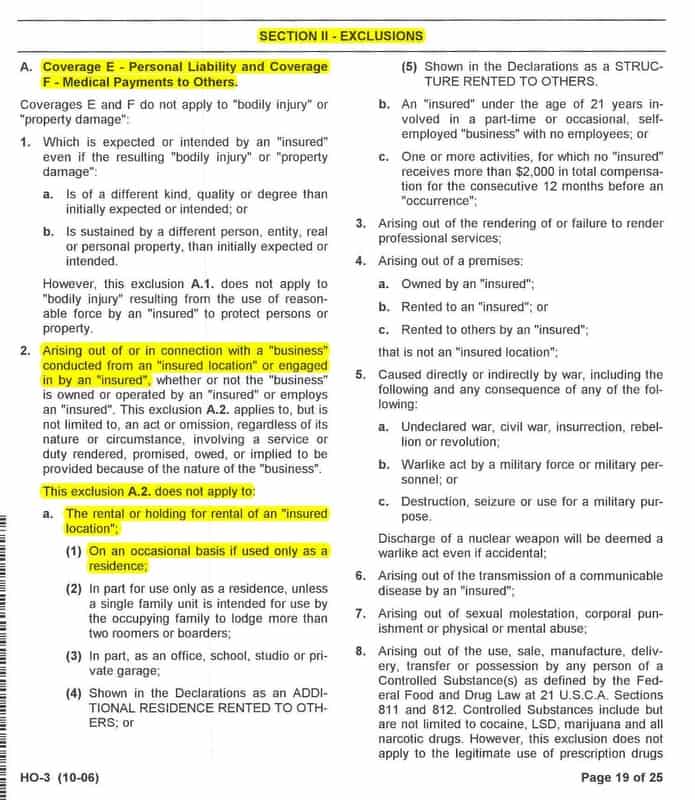 More confusion
The "business activity" does not apply to the rental of the location if "on an occasional basis, if used only as a residence."
This means your buddy comes to stay at your home for 6 months and pays you $500/month.  He is living there and it's occasional.
A residence is where someone lives, resides, get's their mail, etc.  The people who are staying at your STRP are guests, not residents.  Nor is it occasional.
Your STRP is a business and you should insure it like one.  There are very few companies that offer a commercial package policy that can replace your dwelling or landlord policy.  Proper Insurance is one.  Our policy was custom-penned for short-term rental properties and the unique risks involved.
We are glad Nashville is allowing STRP and all about PRO-GROWTH, but don't let the City Counsel advise you on insurance.  And to think all they had to do was leave out one word. HOMEOWNER'S!
Subscribe To Our Blog:
Want to stay up to date on short-term rental news, regulations, and more? Simply subscribe for blog updates.