Proper Partners with Futurestay – The Industry's Leading Booking Platform
As a short-term rental owner, have you ever wished that there was one platform to handle all your booking needs? Proper has identified an all-in-one, industry-leading platformand partnered with Futurestay to help bring their unique and competitive offerings to our clients and readers, and with this partnership, we are providing you access to a FREE three-month trial period. Whether it's having all your properties managed on one dashboard, dynamic pricing tools, or listings on multiple platforms including Google Vacation Rentals, Futurestay is your answer!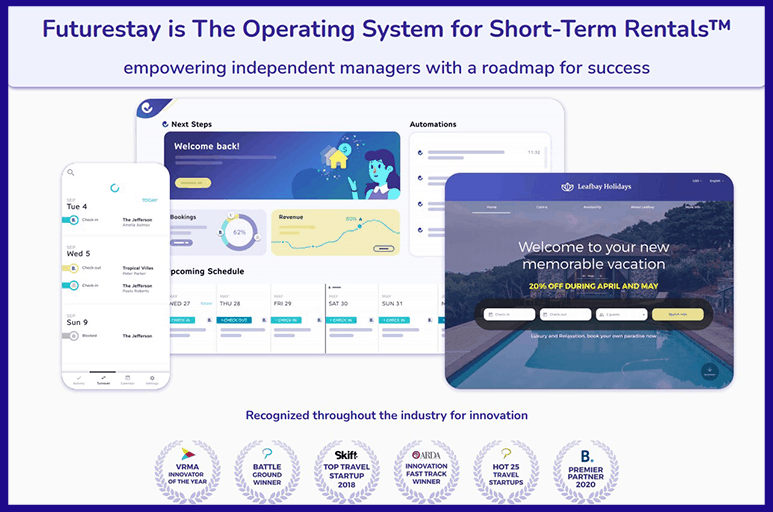 Why Futurestay?
Built-in Dynamic Pricing.
Futurestay provides its clients with an easy-to-use dynamic pricing tool that's powered by AirDNA Smart Rates. This tool automatically updates rates on Airbnb, Vrbo, Booking.com, Google Vacations, and branded websites, provides real-time recommendations, and there's no additional fee to use it. On top of their dynamic pricing tool, clients have complete control over their rates and rules on a per property basis. This means that you can set custom amounts for payment features such as seasonal rates, minimum or maximum stays, security deposits, and more.
List Your Property on Multiple Platforms.
Futurestay has integrated with Airbnb, Vrbo, Booking.com, Google Vacation Rentals, and powers direct booking engines for branded websites. This means you can book your rental across all major platforms simultaneously and Futurestay will manage it all automatically. Booking across multiple channels has enabled managers to increase their revenue by more than 30%!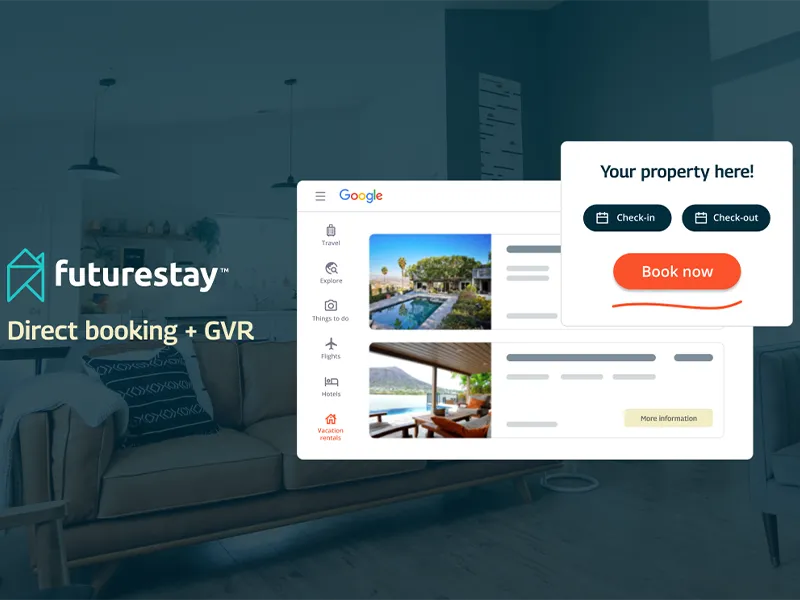 Gain Access to the Google Vacation Rental Platform.
Did you know that 69% of travelers use search engines to start thinking about a vacation? Out of that percentage Google dominates 92% of those searches. As a client of Futurestay, your rental will be listed directly on Google Vacation Rentals. They are the only platform that will give you access to Google Vacation Rentals, giving you a HUGE advantage over other rentals in your area. An appearance of your property on Google Vacation Rentals would not only drive more bookings but also directs the user to your direct booking website. With users being directed to your direct booking website, you will start generating more revenue by avoiding the services fee on platforms like Airbnb and Vrbo. Google Vacation Rentals is the new hotspot for the short-term rental industry, so make sure to take advantage of this opportunity!
Proper Brings You Three Months Free Access On Futurestay's Platform
With our partnership, you can receive three months free to test drive their system and make sure it's the right fit for your business. For access, continue here or contact your account executive at Proper Insurance and they will provide you with direct access to the promotion. Give us a call at 888-631-6680 or email us at info@proper.insure.
Proper Insurance leads the Nation in short-term rental insurance, with over 100,000 policies written in all 50 states. Backed by Lloyd's of London and exclusive endorsements from short-term rental leaders such as HomeAway and Vrbo, Proper Insurance is built on world-class insurance coverage that meets and exceeds both city and lender requirements.