Current Airbnb Laws and Regulations in Rhode Island- What Hosts Need to Know
As tourism continues to increase, many hosts are thrilled to see much-needed expansion on previously outdated Airbnb Laws and Regulations. As Rhode Island thrives on tourism, many hosts rejoice at the increasing need for short-term rentals within the community. Information about updated fines and regulations and local ordinances can be found below.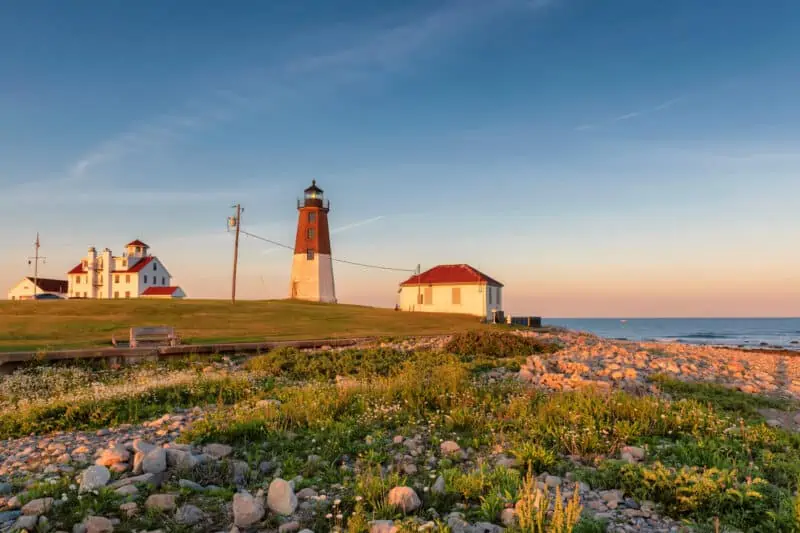 Providence Rhode Island Hosts Thrive as Airbnb Laws and Regulations are Updated and Tourism Increases
Short-term rentals have become a staple to the local economy within Providence. Current Airbnb laws and regulations have been updated recently, and clearly define what is required to successfully operate a short-term rental in Providence. As of January 4, 2022, short-term rental properties (Defined as 30 days or less) listed for rent on third-party websites must be registered with the Rhode Island Department of Business Regulation. This follows the Rhode Island General Assembly's vote to override the governor's earlier veto of the law. The legislation, which originally passed the General Assembly on July 1, 2021, will require owners to register each such property and provide the following information to be stored on an online database by the Department of Business Regulation:
Principal place of business of the owner, or if outside the state, the agent for service of process or property manager for the owner
Phone number of the property owner and/or property manager
Email address of the property owner and/or property manager
Rental property address
Number of rooms for rent on the property
Whether the registrant rents or owns
Intended use (entire space, private room, or shared space)
In terms of enforcement, the Department of Business Regulation will notify all hosting platforms that they must contact owners of short-term rentals to ensure compliance by June 1, 2022. Properties that are not registered by that date shall be removed from the website. For property owners who continue to list their short-term rentals on third-party websites without registering, there will be a $250 fine for the first 30 days, a $500 fine for between 31-60 days, and a $1,000 fine for non-compliance that lasts more than 60 days.
The Department of Business Regulation is explicitly authorized to enact further rules and regulations to enforce the law and "may charge a registration fee to property owners registering with the department pursuant to this section. "Any other frequently asked questions can be found on the Providence government website: Short-Term Rental Regulations in Providence.
Westerly Rhode Island Approves New Airbnb Laws, Increasing Accountability for Hosts
The Westerly City Council of Rhode Island has voted and approved a new short-term rental ordinance in 2021, in hopes of further regulation within the industry. After many complaints regarding short-term rentals, Police Chief, Lacey, hopes that this list will allow town officials to "hold the owners accountable if, in fact, there are any issues".
Annual registration of short-term rentals is required for all Residential Short-Term Rentals. Below you can find the new regulatory requirements to get registered as a vacation rental.
145-25. Residential Zone Short-Term Rental Registration:
Residential Zone Short-term Rental is defined as the offering of occupancy or use of all or portions of a premises, including but not limited to a dwelling unit or any portion thereof, within a residential zone by anyone other than the owner for a fee for a period of fewer than 28 consecutive calendar days. Said offering to be for strictly residential purposes only.
A dwelling unit in an accessory building, single-family, two-family, three-family, semi-detached, or multi-family dwelling, or a portion of a premises or dwelling unit, may be rented to third parties as a Residential Zone Short-term Rental, subject to the following standards:
Management- The Residential Short-term rental must be managed by:
Owner Occupant. An Owner Occupant where the Owner of the Property is always residing in the property that it is being rented out as a Residential Short-term Rental; or
Property Management Company. A professional rental management company with a license in good standing as a State of Rhode Island Real Estate Broker or Brokerage.
Town Resident. A Town Resident is the owner of the property and a full-time resident of the Town of Westerly and shall reside within the Town of Westerly whenever the Residential Short-term Rental is in use.
Registration and Fees
Property owners wishing to use their property as a Residential Zone Short-term Rental must annually register each property as a Residential Zone Short-term Rental with the Town of Westerly. The registration process shall be through a web portal of the Town of Westerly's design and the registration shall include:
An annual registration fee of $50 shall apply to All Residential Short-term Rentals.
Contact Information- The name, address, email, and phone number of the property owner.
Local Representative– The name, address, email, and phone number of the Owner Occupant or Property Management Company authorized to receive any process, notice or demand required or permitted to be served upon the owner of the premises. Said local representative shall:

Provide contact information that is monitored twenty-four hours a day.
In the case of a complaint regarding the use of the Residential Zone Short-term Rental, immediately respond to Town of Westerly officials, including but not limited to the Police Department, but in no case shall such response take more than one hour unless otherwise excused for cause by the Westerly Police Department.

Information Package– At the time of registration, the Town of Westerly shall supply the applicant with a copy of applicable Town of Westerly ordinances, including but not limited to information regarding noise, events, trash, or other such neighborhood nuisance issues.
Leasing of Registration Prohibited- At no time is any party allowed to lease their registration to a third party. Only the registered property owner with their identified Owner Occupant or Property Management Company may engage in Residential Short-term Rental. At no time shall a Residential Short-term Rental be subject to a leasing agreement, including but not limited to a sublease, that does not directly include the property
It's also important to note that while noise, littering, parking, solid waste, and peace and good order aren't directly included in the new ordinance, the city council has decided to rely on other ordinances for these topics. Be sure to inform yourself of these ordinances as well.
Quote your Short-Term Vacation Rental Today
Interested in insuring your Rhode Island short-term rental? Interested in a policy to protect you and your business from liability and damage claims? Proper Insurance leads the Nation in short-term rental insurance, with over 100,000 policies written in all 50 states. Backed by Lloyd's of London and exclusive endorsements from vacation rental leaders such as Vrbo, Proper Insurance is built on world-class insurance coverage. Proper's policy covers vacation homes, townhouses, condos, duplexes, cabins, cottages, apartments, and more. With expert vacation rental underwriters, we can tailor a policy specific to your short-term rental property.