Starting Your Luxury Vacation Rental Business – Exclusive Interview with Ellie Paget of HomeSlice Stays
Curious what it takes to jump into the luxury vacation rental market? There are many factors to evaluate when purchasing your own luxury home to be used as a vacation rental. We sat down with Ellie Paget of HomeSlice Stays to discuss all things lux. Ellie is THE luxury home expert, managing 30+ luxury properties. In this article, Ellie answers a number of our most pressing questions on the following topics: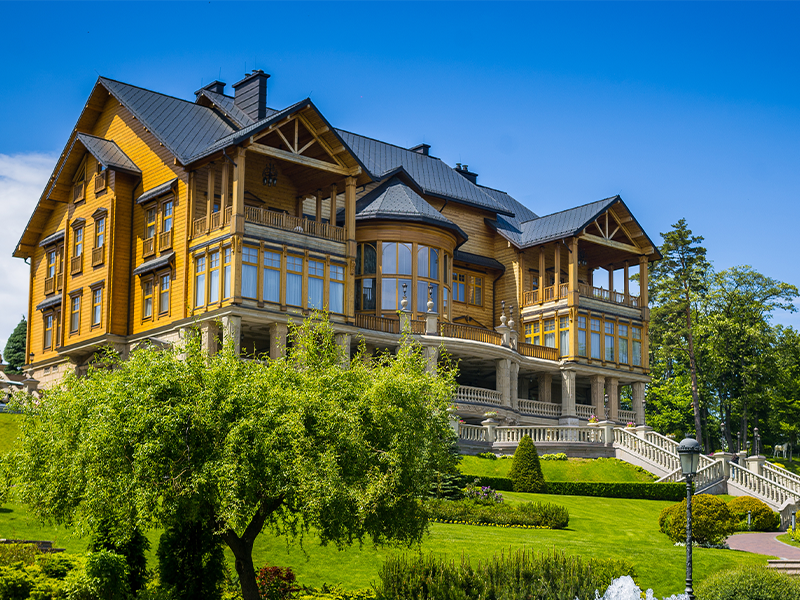 What are the most overlooked assets when in the process of selecting a luxury property?
Luxury vacation home acquisition is a very interesting niche in the market because it has a higher front end when it comes to start-up costs, yet yields larger margins of return, if purchased correctly. The biggest value is selecting a home in the right high-demand area, for the right cost, and that has a wow factor that impresses people to reserve urgently. Then going from there, the interior design must feel like an extraordinary, private, luxury experience. It's not all easy to achieve yet, when it comes together, it is a lot like an amazing symphony. Utilizing our company ( HomeSlice Stays ) to accomplish the initial stages is crucial instead of trying to achieve it on your own.
Designing the inside of a luxury home can be a Major undertaking and expensive process
Designing a luxury home typically means you are looking north of a 60K cost just on furniture alone for a 5-bedroom house. The concept of filling a home can be challenging to imagine for some owners, the cohesiveness and 300+ items being the most to imagine. Here are some helpful tips for redesigning a luxury vacation rental:
What are steps that a property owner could take to ease the process of designing their home?
Don't go cheap on high-traffic furniture. It will show in the design if you buy a cheap Ikea bed for 5 bedrooms and the items will fall apart quickly meaning you will have to waste time replacing them. That's also saying don't overspend on high-traffic items! There is a middle lane that accomplishes both form and function.
Think of your home as a hotel. What does this mean? This means organizing things in place of practicality for the guests who are coming. Do you think guests would like black-out curtains and an alarm clock, floaties for the pool, a nice entertainment area, and great lighting? Yes, think of the place as a luxury hotel. Go to local high-end hotels for lunch and sit in the lobby to experience well-done form and function.
Less is more! The biggest thing I notice with clients is their personal preference and concern for the guests, then become too secure in their decisions then start to overshadow their sensible purchases. There's a difference between a needed purchase, like a bed, and a vanity investment, like an extra console. Focus on the main pieces first, get them in since they take the longest to arrive, then add the pieces in after you see it all in the room. Overdesigning the space clutters and makes it feel too personalized to the owner.
Should I include my luxury property's history or meaning in my listing description to set my property apart from others?
Adding historical aspects to the home offers a sense of nostalgia and intrigue. This is a great way to differentiate yourself in a market where all the homes say the same tagline. You can accentuate the experience of the house so that guests will feel as unique. Don't overkill it however by describing too much, only stick to the sensation and action the guests who are going to book may have. For example, this 1900's bungalow was built by the Ross brothers who were known for creating sugar mills-¦. vs this awesome bungalow boasts a dappled light-filled window overlooking the pool.
Do you notice a majority of property owners offering additional amenities that aid in providing an unrealistic experience at the property?
HomeSlice Stays offers a myriad of add-ons to the stay. As grandiose as a fully designed dinner with a private chef, massage, and yoga instructor. As simple as fresh flowers and fridge stocked. When doing these offerings, we provide them to third-party vendors that benefit from providing the service and getting a part of the deal. That allows us to have that high-level touch. Trying to achieve it all internally is a challenge.
Luxury homes deserve luxury insurance
With a luxury property comes the need for a top-tier insurance policy. Liability risk is the number one exposure that vacation rental hosts face, and luxury homes can pose a higher risk due to the exquisite design of the property or the amenities provided, like a swimming pool. At Proper Insurance, we offer $1 million in commercial general liability insurance regardless of vacancy periods or property entrustment, with the option to increase to $2 million. Our policy is custom written for the unique risks that short-term rentals bring. For example, many hosts enjoy leaving a nice bottle of wine for high-end guests upon their arrival, adding to the experience of their luxurious stay. If you're a host that enjoys providing a welcome bottle of wine, that's fantastic, just make sure that it's covered in your policy. Unlike most insurance policies, Proper Insurance allows you to gift your guests a nice bottle of wine because we have removed the liquor liability exclusion from our policy.
Proper Insurance leads the Nation in short-term rental insurance, with over 100,000 policies written in all 50 states. Backed by Lloyd's of London and exclusive endorsements from short-term rental leaders such as Vrbo, Proper Insurance is built on world-class insurance coverage that meets and exceeds both city and lender requirements.