Virginia Cities Enact New Airbnb Laws—Here's What You Need to Know
In recent years many Virginia cities have put Airbnb laws into place to better regulate the burgeoning industry. From metropolitan hubs like Alexandria to tourist spots like Virginia Beach, hosts are now contending with permits and insurance requirements.
Airbnb Laws and Regulations for Virginia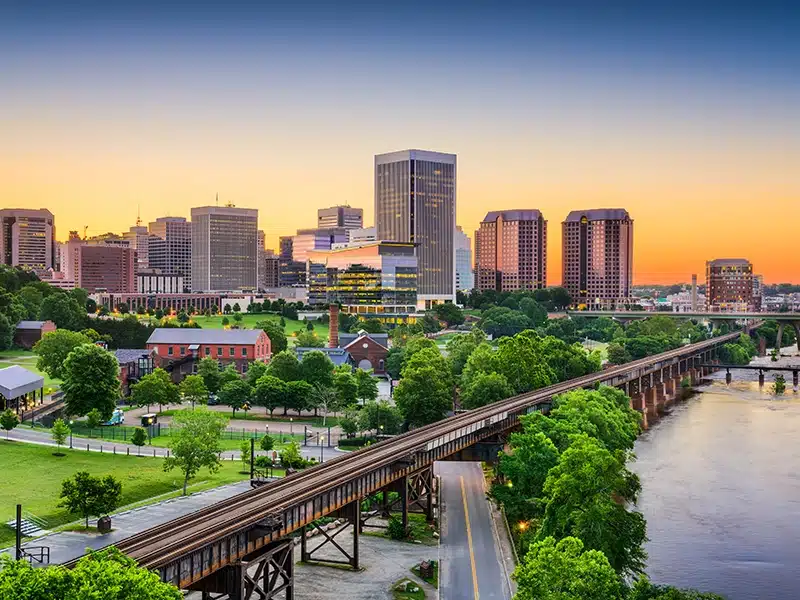 Alexandria, Virginia
2018 Airbnb Laws Now in Effect—Licenses and Insurance Now Required
Alexandria, Virginia is now enforcing an additional Airbnb law that passed in 2018 after more than a year of debate. The ordinance seeks to balance community concerns with the short-term rental industry. Among the new regulations, the City of Alexandria is now requiring all short-term rentals to register with the city. Other requirements include:
A host shall provide each transient guest in a short-term rental a 24-hour accessible telephone number to the host, or to a person who has the authority to act on behalf of the host, in the event of an emergency
Hosts must maintain a working smoke detector outside the sleeping area of the short-term rental and on all habitable floors of the host's primary residence, and provide a working carbon monoxide detector on all habitable floors
Maintain at least one working portable fire extinguisher for the primary residence that is easily accessible
A host shall retain records of each booking of a short-term rental for a period of two (2) years
A host providing a short-term rental shall have current liability insurance of at least $250,000, which may be provided by the booking service.
While Alexandria may be requiring liability insurance on short-term rentals, a policy only covering liability leaves gaps for owners and hosts. The primary reason for an insurance requirement is to ensure that short-term rental owners are properly protected from injuries or property damage that they could be held legally liable for and that's why it's crucial that your policy is tailored to short-term rentals. $250,000 in liability insurance will most likely not be sufficient to cover a liability claim. This is why Proper has designed a custom-written policy that's dedicated to short-term rentals and will be there for you when an issue arises.
Richmond, Virginia
Now Requires a City Permit in Order to Operate a Short-Term Rental per Additional Airbnb Laws
An additional Airbnb law was passed for hosts in Richmond, Virginia. Along with other requirements, the new ordinance requires hosts to obtain an annual permit ($300) to operate a short-term rental (Airbnb, Vrbo, etc.) .
The full ordinance is available on the Richmond, VA government website: Ord. 2019-343. The ordinance took effect on July 1, 2020. 
Who can operate a short-term rental: The short-term rental operator shall be the property owner. The short-term rental shall be on the lot of the operator's primary residence with the operator occupying the lot at least 185 days each year. 
Approval process: Certificate of Zoning Compliance (CZC) for short-term rental is to be obtained on a biennial basis. The Biennial Fee for CZC is to be $300 which is intended to cover administration and monitoring costs. (must also be posted on all advertisements).
Number of persons who can rent per night: The total number of adult renters allowed in a short-term rental shall be limited to two adults per available sleeping room. Double booking which consists of more than one booking transaction occurring at the same time is not allowed. The number of children per rental is not limited. 
Number of sleeping rooms available for rental: The total number of sleeping rooms available for rental is limited to a maximum of 5 sleeping rooms.
Events: Events and gatherings of persons other than the authorized lodgers are prohibited from occurring at the short-term rental. 
Virginia Beach, Virginia
Seeks to Balance Between Community Concerns and Short-Term Rental Owners with New Airbnb Laws
Virginia Beach, Virginia has adjusted the zoning laws that govern short-term rentals, thanks to new Airbnb Laws.
Virginia Beach has consistently offered a variety of lodging options for tourists including Hotel/Motels, Bed and Breakfast Inns, Country Inns, and short-term rentals. With over 2,000 registered short-term rentals, the city designed regulations to address public and safety concerns and to protect the personality of its neighborhoods by rezoning popular areas of the city. Beginning November 1st, 2019 the regulations include the following significant items: 
Hosts must obtain a conditional use permit to be renewed every five years
If hosting more than 50 guests, hosts must obtain a special event permit
Hosts must obtain $1,000,000 in liability insurance coverage
The remaining restrictions include the number of guests allowed per bedroom, off-street parking for guests, and the number of rental contracts allowed in a 7-day period; with safety regulations such as functioning smoke and carbon monoxide detectors.
Update: Changes to the current short-term rental ordinance in Virginia Beach were outlined in the public Planning Commission meeting on March 10th, 2021. The most significant change would be creating overlay districts, specifically areas with direct beach access, where short-term rental will no longer be allowed to operate. 
Quote Your Short-Term Rental Today
Looking to fulfill the Virginia insurance requirements today with a policy that'll protect you and your business from liability and damage claims? Proper Insurance leads the Nation in short-term rental insurance, with over 100,000 policies written in all 50 states. Backed by Lloyd's of London and exclusive endorsements from short-term rental leaders such as Vrbo, Proper Insurance is built on world-class insurance coverage that meets and exceeds both city and lender requirements. 
Please note: The information provided is intended as a guide and may not be comprehensive or current. Regulations may change and could vary by area or situation. Always consult local authorities or a legal professional to ensure you have the most accurate information for your short-term rental property.