Airbnb Laws and Regulations in Washington State
New and additional Airbnb laws have cropped up all over the Evergreen State in recent years. Several municipalities now require hosts to carry a liability insurance policy as a safeguard, and others now require a permit in order to operate.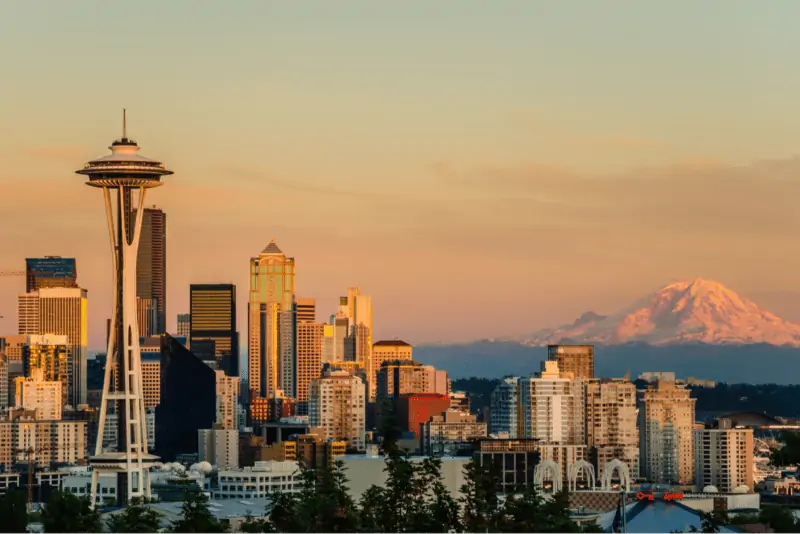 New Rules for Bellingham: Developing Airbnb Laws and Regulations in Washington
The city of Bellingham, Washington hopes to uphold two primary goals by enforcing its recent Airbnb Laws: to maintain stable housing while protecting the safety and rights of owners, neighbors, and guests.
This ordinance requires that all short-term rental operators obtain a vacation rental permit and pay the corresponding fee. Along with the permit, each operator is limited to one short-term rental property in all residential areas and the dwelling must be the owner's primary residence for 270 days per year, with a 95-day limit that the property can be rented out. Bellingham Municipal Code Section 20.10.037 offers further information on exceptions to these limits.
For the homes in compliance, the city implemented a list of additional guidelines for the homeowner, such as adequate street parking, accessible emergency contact for the guests, and a basic safety inspection of the property. These guidelines, along with the required permit- attempt to strike a balance between welcoming visitors while protecting the economy and community.
Seattle Airbnb Laws Passed by City Council
The Seattle City Council passed a new set of Airbnb Laws that would effectively restrict property owners on the number of units they can rent out. According to the ordinance, property owners are permitted to rent out up to a maximum of 2 dwelling units. However hosts already operating in the downtown urban center south of Olive way and North of Cherry St will not be limited in the number of dwelling units they may operate.
These new changes were introduced to prevent property owners from turning their Airbnb rentals into a "hotel business." In addition, hosts are required to obtain licenses before they're eligible to list their homes for rent. The new regulations also apply to other short-term rental platforms including Airbnb, Flipkey, Vrbo, and more.
These new laws come shortly after the council passed short-term rental tax laws, which are expected to generate 7 million in revenue for the city.
Airbnb Laws Hosts Need to Know in Walla Walla, WA
Airbnb Laws in Walla Walla, Washington have changed to better accommodate the skyrocketing tourism industry.
Known for its fertile agricultural areas and over 100 local wineries, it's easy to see how Walla Walla is now a popular short-term vacation rental destination. With growth in this market over the years, Walla Walla eventually decided on short-term rental laws, following suit to many cities and communities across the U.S. 
The City has general requirements, application requirements, and development standards for short-term rentals including the following: 
A permit from the city of Walla Walla
A local contact available to respond to issues at the short-term rental
Compliance with all fire and safety codes, including a working fire extinguisher
Adequate parking based on the capacity of the rental
Owners must have property insurance and liability coverage
Hosts should also expect an application of $150, with an annual renewal fee of the same amount.
New Airbnb Laws in Chelan County Requires Liability Insurance for all Short-term Rentals
The Board of Commissioners passed the final Airbnb laws for Chelan County, which took effect on September 27th, 2021.  The new code stems from months of tension between long-term residents and rental owners near some of Washington's popular tourist destinations.  Within the new code, there are regulations regarding zones allowed, the number of units allowed, operational standards, existing units, permit process, and a primary liability insurance requirement of no less than $1,000,000. 
Many hosts believe that their umbrella insurance policy would be applicable in this situation, but this is simply not true for two reasons.  First, your underlying policy must be fully exhausted for an umbrella to kick in, and many short-term rental hosts simply do not have the correct underlying insurance, so the claim never gets to the umbrella. Many short-term rental homes are insured on policies that have business activity exclusions which means it more than likely wouldn't respond to a claim, to begin with.  Second, an umbrella is not the primary liability coverage limit so it would not suffice the new Chelan County insurance requirement. You will need to show proof of $1,000,000 in liability coverage limits before any umbrella. 
Quote Your Short-term Rental Today
Looking to fulfill the Washington insurance requirements today with a policy that'll protect you and your business from liability and damage claims? Proper Insurance leads the Nation in short-term rental insurance, with over 100,000 policies written in all 50 states. Backed by Lloyd's of London and exclusive endorsements from short-term rental leaders such as Vrbo, Proper Insurance is built on world-class insurance coverage that meets and exceeds both city and lender requirements.