This past week, the Washoe County Board of Commissioners held a meeting, where the Planning Staff provided a presentation on vacation rentals. This presentation included overviews of programming, compliance status, and suggested revisions for the future of vacation rentals in the area. The first reading of a new ordinance will take place in March of 2022 and if it continues to get adopted this will be in May of 2022. 
After doing outreach surveys within the county, the Board of Commissioners noticed concerns regarding general nuisance, frustration with occupancy calculations, code enforcement resources, and more. These items are the main reasons for updating the current short-term rental code.  
Recommended Code Amendments
Notarized affidavit be expanded to include the minimum insurance requirements versus a certificate of insurance.

 

Clarify requirements in condo/multi-family for parking where parking is unassigned, no overflow.

 

Revise method for maximum occupancy calculations.

 

Replace Tier 3 STR Permits (Administrative Permit-BOA) with a Special Use Permit (PC)

 
Recommended Fee Changes
Require an additional $90 fee for any inspection beyond the first 2 short-term rental building inspections.

 

Permit Fees for North Lake Tahoe Fire Protection District to be increased by $90 to be $180.

 

Establish Administrative Hourly Fee of $90/hr.

 

Possibly increase Planning portion of fee once we can reconcile a full year (currently 1 hour $90 vs actual 8 hours plus)

 
Current Insurance Requirement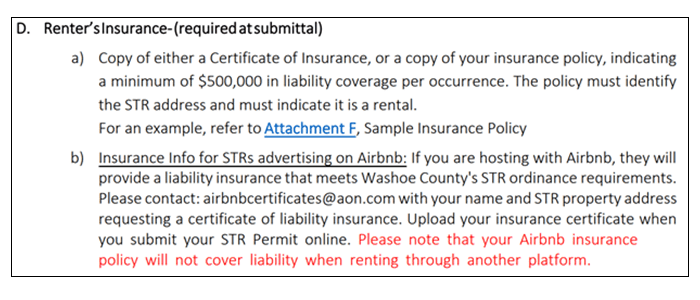 In the Washoe County Nevada Short-Term Rental Application Guide, it states that 'Renter's Insurance' is required at submittal. The Board of Commissioners has done the right thing when stating that the policy 'must indicate the rental'. This is due to the fact that most standard homeowner's policies do not cover short-term rental operations because they have a 'business activity' exclusion. What you need is a commercial general liability business policy, which will ensure that you are properly covered when short-term renting your property. 
Hosts who rent on Airbnb need to be aware of Airbnb's AirCover Protection Program and what exactly it is. The main thing that you need to understand about Airbnb's protection program is that it DOES NOT replace your current homeowner's insurance. Airbnb's AirCover protection has simply rebranded the longstanding Host Protection and the Host Guarantee and now it's under one roof called 'AirCover', with the addition of a few coverages. 
We know that insurance can be confusing, and that's why we've dedicated a blog to give you a better understanding: A Deeper Look Into Airbnb's Aircover Protection.
Quote Your Short-Term Rental Today
Looking to find the right insurance for your vacation rental, while still meeting the Washoe County requirements?  A Proper Insurance Agent would be happy to provide you with a FREE policy comparison to help you understand exactly what would and wouldn't be covered based on the policy language. Submit a quote with the button below or give us a call at 888-631-6680, and a Proper Agent will be happy to assist you. 
Proper Insurance leads the Nation in short-term rental insurance, with over 50,000 policies written in all 50 states. Backed by Lloyd's of London and exclusive endorsements from short-term rental leaders like Vrbo, Proper Insurance is built on world-class insurance coverage that meets and exceeds both city and lender requirements.