Waterfront Vacation Rental Safety Concerns Every Host Should Know
Promoting a waterfront vacation rental can set you apart in the short-term rental industry especially when guests are looking to escape the summer heat or take part in an ice fishing adventure.
As a short-term rental host with a waterfront property, you may not initially think of the risks associated with this particular amenity. However, in addition to the heightened risk short-term rentals are already exposed to, if your property is located on the water, your risk exposure increases exponentially more.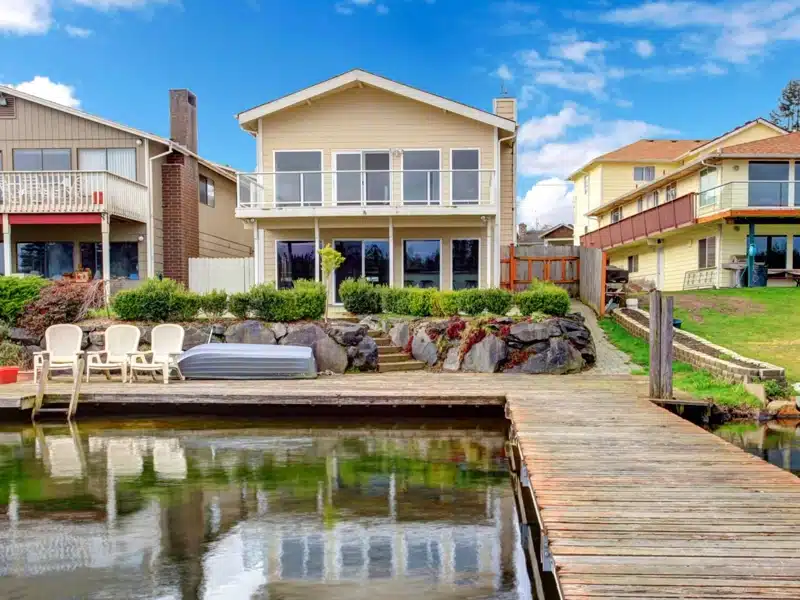 The Importance of Understanding Negligence
It's important to understand the legality of negligence as it pertains to a short-term vacation rental property. Simply put, negligence means failing to act with reasonable care or caution in a given situation.
Once someone agrees to pay you for a service like renting our home, you take on a greater responsibility to identify and minimize risks at your short-term rental property. It's "negligence" that puts you in a position where a guest and their lawyer may see an opportunity to prove that an injury was a result of your inattention to safety details.
There are endless opportunities for accidents in a short-term rental. This is where the insurance comes in, and when it comes to lawsuits in the U.S., you can be sued for just about anything. However, even insurance has its limitations, and if a guest can prove your negligence caused their injury, the more likely you are to exceed your insurance liability limits.
On the other hand, the more you focus on safety in your short-term rental the less opportunity there is to prove negligence on your part. If there were an injury, your efforts in safety and risk management would not only strengthen your insurance company's defense but greatly reduce any potential payout ordered by a court.
Managing the Risks of Lake Properties
Short-term rental homes are inherently risky — guests are staying in an unfamiliar place, expect the same safety standards of a hotel stay, and their guard may be down while on vacation. Slippery surfaces, risk of drownings, and use of watercraft increase the risk of an accident happening.
Address off-site and watercraft risks
Traditional insurance policies that carry personal or premise liability, become rather gray in terms of liability coverage for incidents that occur on or around your property.
This means that incidents beyond your property line could potentially not be covered depending on the liability type. For example, "premises liability" does not cover claims off-premises. Therefore, a lawsuit arising from an amenity that takes your guest off-premises, like providing bicycles at your beach home, more than likely won't be covered.
This doesn't mean you shouldn't rent your property but rather pay special attention to identifying and addressing risks before guests arrive.
Taking steps toward safety and risk management, like placing the non-slip tape on your dock, could help prevent a slip and a hazardous fall. Couple this approach with an insurance policy that includes off-premises liability and does not exclude guest use of amenities (small watercraft, golf carts, etc.), and you can greatly reduce the risk to your business.
If your lake home also provides your guests with access to a pool you will also need to implement pool safety standards.
Install "swim at your own risk" signage
As a host you never know who will be staying at your short-term vacation rental, so it is crucial to make guests aware that swimming is at their own risk by installing a "swim at your own risk" sign.
While it's important to always have a liability waiver included in the rental agreement, this can only go so far.
By publicly posting to notify guests and potential trespassers, you are distancing yourself from a lawsuit and reducing your negligence.
Provide accessible rescue equipment
You've probably noticed that when you stay at a hotel with swimming access there are several types of warnings, added safety equipment, and sometimes even on-duty lifeguards.
Make rescue and safety equipment easily available for guests at your waterfront rental property. Readily accessible gear demonstrates preparedness for potential water emergencies. This proactive approach not only protects your guests but also reduces your legal liability related to negligence.
Remove slides and diving boards
Even though a slide or diving board might seem like a fun feature, these are huge liabilities for your short-term rental.
These features may seem like a way to attract more renters and drive more bookings, but in the end, the loss is far greater than the gain if someone were to get injured.
This safety concern can open your business up to unnecessary legal risk in the event of an injury. For these and other reasons, many insurance providers may require you to remove your diving board and slide to diminish the liability concern and potential for negligence.
If you are set on keeping your dock or pool slide at your vacation rental, it's important to keep in mind what type of slide you have because some are safer than others. While enclosed waterslides are often acceptable, pool or dock slides can turn into a dangerous situation when it's an open slide with no barrier to keep a person from flying out and injuring themselves.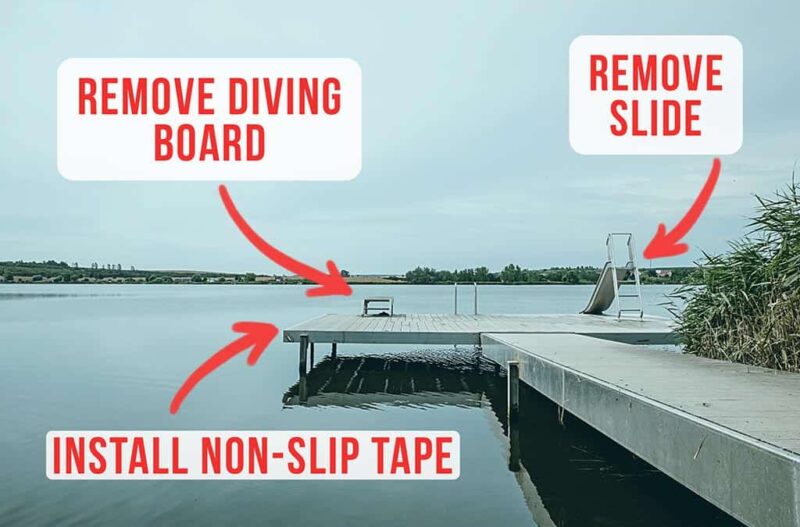 Opt for safety floatation rather than water toys/floats
Pool floats and toys might not seem like a potential concern at first but providing these at your rental you are inadvertently encouraging those who may not be the best swimmers to take a dip, which could result in drowning.
It is best that you do not provide any floaties or toys that you have at your rental but rather advise that guests bring their own, just be sure that they are removed before the next guest arrives.
Instead, some floatation devices, like many life vests, are certified by the U.S. Coast Guard and those are fine to include as they are rated for safe use.
Provide safety guidance for small watercraft use
Are you considering offering paddleboats, paddleboards, kayaks, or canoes at your waterfront vacation rental? As a waterfront rental host, it's important to understand that rescue and safety equipment should be a priority for your guests, especially since there are no lifeguards on duty.
It is imperative that you do not provide inflatable amenities as an additional layer of risk management. Hard sided, non – motorized watercraft are in general going to be easier to spot potential leaks/cracks with your turnover team prompting them to remove the amenity from use at the property.
"Always provide guests with as much information as possible. You must assume they are visiting from a place they don't use kayaks often, if at all," said Justin Ford, short-term rental safety expert, in Breezeway's Watercraft Safety video.
Watercraft liability is also considered off-premises liability, as your guests may take the kayak out on the lake or river, and you would need to ensure that your short-term vacation rental insurance policy covers amenities used off your property.
Prepare for ice and other winter hazards
Is your short-term rental located around ice or snow in certain months of the year? These conditions bring the risks of guests walking on frozen lakes, snowslides, icicles falling off your roof, ice skating, and more.
It's important to inform and advise your guests to take note of these concerns and consider including a waiver in your house rules during the winter months. We also strongly advise that you keep your rescue equipment up during these cold months and install warning signs for ice and snow hazards.
As a short-term rental host, you are always responsible for your guest's safety.
Gain Peace of Mind Through Proper's Underwriting Process
Implementing safety standards for waterfront properties is an underwriting requirement at Proper Insurance because waterfront access is identified as a safety concern because there has been a high number of injuries and subsequent lawsuits involving these items in the past.
Underwriters may ask that you make changes to your short-term vacation rental, such as adding non-slip tape, in order to continue the insurance contract, however, if there was an injury at your property your liability insurance would respond.
Even though these requirements may seem like a barrier to entry, there is usually a grace period in which underwriters will notify you of potential risks and give you an opportunity to correct the issue without a gap in coverage.
Choosing a carrier with experienced short-term rental underwriters means that they've seen thousands of listings and hundreds of lawsuits making it easy for them to identify issues before an accident.
Upgrade Your Short-Term Vacation Rental Insurance Today
Interested in a policy to protect you and your business from liability and damage claims?
Proper Insurance is the nation's leading short-term vacation rental insurance provider, with the most comprehensive policy on the market. We protect homes in all 50 states with unmatched coverage for your property, revenue, and business liability, customized to include guest-caused theft/damage, liquor liability, amenity liability (bikes, kayaks, hot tub, etc.), bed bugs, squatters, and more.