Are your guests looking to escape the summer heat or get away for an ice fishing adventure?  Promoting a waterfront vacation rental can certainly set you apart within the short-term rental industry!  As a short-term rental host with a waterfront property, you may not initially think of the assortment of risks associated with this particular amenity. 
In this article, you will find:
Beware: Brief 
N
e
gligence
 Recap Below
Before we dive into the waterfront vacation rental safety concerns, we will discuss negligence as it pertains to short-term vacation rentals and why it's important to understand. 
Simply put, negligence is the failure to "take care in doing something".  Once someone agrees to pay you for a service such as rental your home, you must take greater care in evaluating risk in your short-term rental.  It's "negligence" that puts you in a position where a renter and their lawyer may see an opportunity to prove that their injury was a result of your inattention to safety details. 
When it comes to lawsuits in the U.S., you can be sued for just about anything, and there are endless opportunities for accidents in a short-term rental.  This is where the insurance comes in.  However, even insurance has its limitations, and if a guest can prove your negligence caused their injury, the more likely you are to exceed your insurance liability limits. 
On the other hand, the more you focus on safety in your short-term rental the less opportunity for negligence on your part.  If there were an injury, this effort would not only increase your insurance company's chances of winning the case but greatly reduce the potential payout ordered by a judge.
Why Do 
Lake
 Homes
 Pose Such 
a
 High Risk?
Short-term rental homes are risky by nature. Guests are staying in an unfamiliar place and may not anticipate the inherent risks of your property. Adding water to the equation increases this risk greatly. Risk of drownings, use of watercraft, slippery surfaces, all set the stage for the worst to happen. Couple this with the assortment of individuals (children, elderly, etc) who may be staying at your home and your general risk increases greatly. 
In addition, traditional insurance policies typically only cover liability for incidents directly on your property. This means that incidents beyond your property line would not be covered. Unless you own a lake or pond this means accidents that happen in the water or even on your dock would be considered off-premise and you would need to check your policy for off-premise coverage.
This doesn't mean you shouldn't rent your property but rather take special care identifying and addressing risks before guests arrive.  For example, placing the non-slip tape on your dock could help prevent a slip and a hazardous fall.  Couple this approach with an insurance policy that includes off-premise liability and doesn't exclude guest use of amenities (small watercraft, golf carts, etc.), and you can greatly reduce the risk to your business.
Does your lake home also include a pool?  Promoting a pool can certainly set you apart but just like the lake, there are risks associated with this particular amenity.  Check out our Pool Safety Standards blog to ensure pool safety for your guests.
Install a "Swim at Own Risk" Sign
As a short-term rental host, you never know who will be staying at your lake house rental, so it is crucial to make guests aware that swimming is at their own risk.  While you should always have a liability waiver included in the rental agreement, this can only go so far.  By publicly posting to notifying guests and potential trespassers, you are distancing yourself from a lawsuit and reducing your negligence.  This way in a court of law, evidence of this can be submitted and could greatly reduce the impact of a lawsuit.
Rescue Equipment at Short-Term Vacation Rentals
You've probably noticed that when you stay at a hotel with lakefront access there are all types of warnings, safety equipment, and lifeguards that are easily accessible.  As a waterfront rental host, it's important to understand that rescue and safety equipment should be a priority for your guests, especially since there are no lifeguards around. 
Once again, you can never fully understand the abilities of your guests but providing rescue equipment could help your guests stay safe if an issue were to arise on the water.  Including these safety features at your waterfront vacation rental, could help your insurance carrier battle a lawsuit if your guest were to be injured.
Why Remove a Slide and Diving Boards from Your 
Lake
 H
ouse
 Rental?
Even though a slide or diving board might seem like a fun feature, these are huge liabilities for your short-term rental.  These features may seem like a good way to attract more renters and drive more bookings, but in the end, the loss is far greater than the gain if someone were to get injured. 
As mentioned before, your rental doesn't have a lifeguard on duty if someone were to be injured.  It's also difficult to know the abilities of your guests, and if they know how to properly use the equipment.  This safety concern can open your business up to unnecessary legal risk in the event of an injury. 
For these and other reasons, many insurance providers may require you to remove your diving board and slide to dimmish the liability concern and potential for negligence.
Why Remove Water Toys and Floats
?
I know what you're thinking – no floaties?!  Pool floaties and toys might not seem like a potential concern at first but providing these at your rental you are inadvertently encouraging those who may not be the best swimmers to take a dip, which can result in a drowning.  It is best that you lock away any floaties or toys that you have at your rental and advise guests to bring their own.  In the case of a guest bringing their own floaties or toys, you just have to make sure that they are removed before the next guest arrives. 
Some floatation devices, like many life vests, are certified by the U.S. Coast Guard and those are okay to include as they are rated for safe use.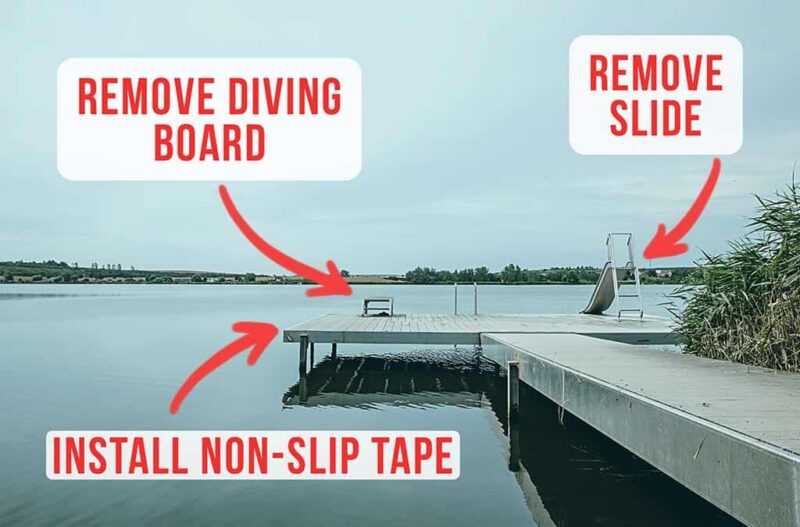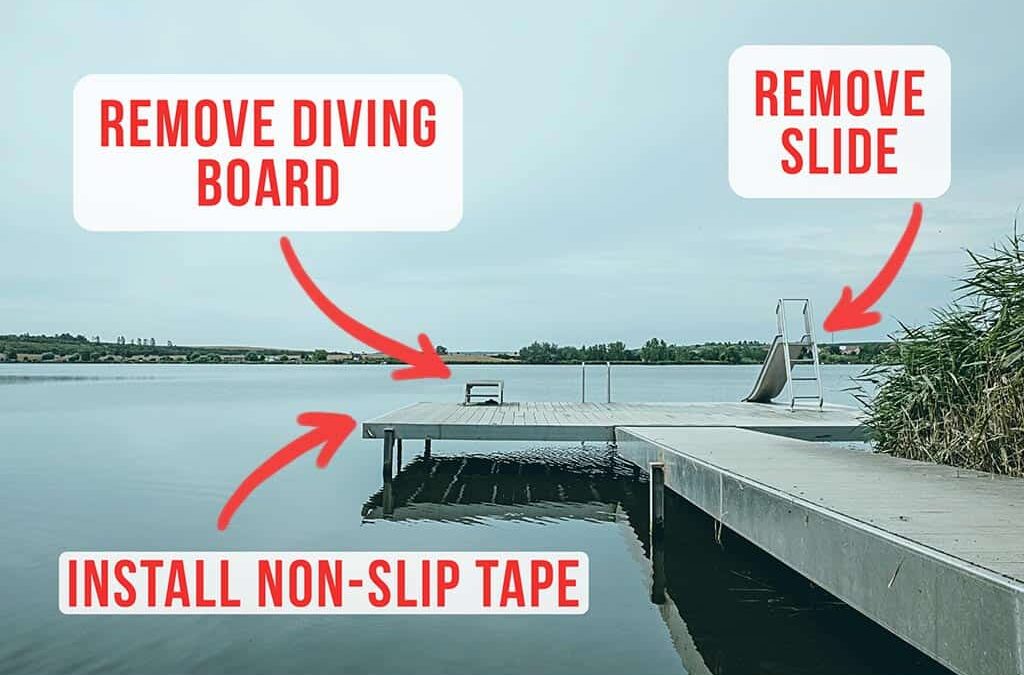 What About Small Watercraft?
Are you considering offering paddleboats, paddleboards, kayaks, or canoes at your waterfront vacation rental?  When providing small watercraft products, it is your responsibility to make sure that they are in working condition, as well as the coast guard-approved life vests before your next guests arrive. 
Watercraft liability is also considered off-premise liability, as your guests may take the kayak out on the lake or river, and you would need to ensure that your short-term vacation rental insurance policy covers amenities used off your property.
Ice and Other Hazards
Brrrrrr.  Is your short-term rental located around ice or snow certain months out of the year?  These conditions bring of the risks of guests walking on frozen lakes, snowslides, icicles falling off your roof, ice skating, and more.  It's important to inform and advise your guests to take note of these concerns and consider including a waiver in your house rules during the winter months.  We also strongly advise that you keep your rescue equipment up during these cold months and install warning signs for ice and snow hazards.  As a short-term rental host, you are always responsible for your guest's safety. 
Peace of Mind Through Proper Underwriting
At Proper Insurance and many other insurance carriers, adequate safety standards for waterfront properties are an underwriting requirement because they are identified as a safety concern, meaning that they've seen a high number of lawsuits involving these items in the past. 
Underwriters may ask that you make changes to your short-term vacation rental, such as adding non-slip tape, in order to continue the insurance contract, however, if there was an injury at your property your liability insurance would respond. 
Even though these requirements may seem like a barrier to entry, there is usually a grace period in which underwriters will notify you of potential risks and give you an opportunity to correct the issue without a gap in coverage. 
By choosing a carrier with experienced short-term rental underwriters, means that they've seen thousands of listings and hundreds of lawsuits making it easy for them to identify issues before an accident. 
Quote Your 
Short-Term Vacation Rental
Today
Interested in a policy to protect you and your business from liability and damage claims? Proper Insurance leads the Nation in short-term rental insurance, with over 50,000 policies written in all 50 states. Backed by Lloyd's of London and exclusive endorsements from short-term rental leaders such as HomeAway and Vrbo, Proper Insurance is built on world-class insurance coverage that meets and exceeds both city and lender requirements.