Chelan County, WA introduced a draft ordinance for short-term rental properties in April, which will be reviewed by the county commissioners through July. As they consider new regulations, the county commissioners may accept comments from local residents during a public hearing, so keep an eye on the county calendar in the coming months!
Short-term rentals have come to the County's attention due to their incredible year-over-year growth.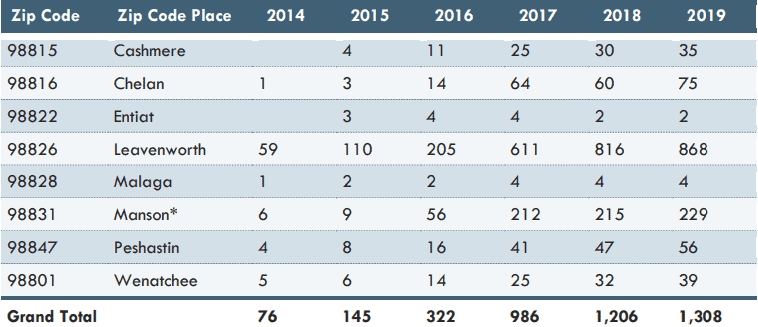 As the County reviews regulations, now's the time to analyze your short-term rental business to make sure everything is in order for welcoming guests. Here are some items in the 2020 draft code that may affect your business:
Establish protections for the supply and affordability of housing

– allow a small increase annually in short-term rentals, e.g. 1% countywide. In areas with a high concentration, maintain existing short-term rentals but restrict new ones. 

Create protections for the wellbeing of guests

– provide for property management plan, health and safety, inspections by fire and health officials at start, self-certification at annual renewal, and insurance. 

Preserve public tax revenues and level the playing field

– require short-term rental owners/operators to comply with local and state tax requirements.
Ultimately, Chelan County may consider your rental a business, like Hilton (3.3.1.8): 
Hotel/motel regulations.

Some respondents who want regulation believe short-term rentals should be required to adhere to the same standards as hotels, motels, and bed and breakfasts to ensure fair competition.
Insurance.

A few comments noted that those operating a short-term rental should carry commercial or liability insurance as home-owners insurance is often null and void. Comments suggested proof of insurance be required with registration. 
What does this mean for your business? As with Hilton, you should secure the right insurance for common claims or occurrences in your industry.
How Insurance Fits into Short-Term Rental Regulation
With the explosive growth of the short-term rental industry, communities are struggling to find common ground regulation. Many communities have passed ordinances and laws which typically adopt some type of insurance requirement. Whether your County adopts similar requirements, this is important information to understand. 
Common Ordinance Example with Insurance Requirement
Each owner shall maintain at least $1,000,000 in liability insurance on the Short-Term Rentals for the full duration of their license term and provide proof of the same to the City. 
Concern #1 – The form of "liability insurance" is not defined. There are three types of liability coverage you can purchase for your short-term rental: personal liability, premise liability and commercial general liability. Commercial general liability is the best suited for your short-term rental as most traditional insurance policies don't cover business activity (short-term rental).
Commercial general liability is found in business insurance policies and protects you against claims of bodily injury or property damage. It's the most comprehensive liability insurance you can purchase. 
Concern #2 – The "proof" of insurance is not defined. Simply stating proof of insurance won't suffice as there are too many ways to show "proof". The County will quickly discover how unclear regulations confuse the matter exponentially. 
In the insurance industry, all carriers use a standardized form called a "certificate of insurance" or COI to show proof of insurance to various interested parties, including banks and mortgage lenders, etc.
Verify your insurance today
Now's the time to make sure you have the right insurance to continue running a successful business and ensure a safe home for guests. Do you have proper insurance?
Subscribe To Our Blog:
Want to stay up to date on short-term rental news, regulations, and more? Simply subscribe for blog updates.