Introducing Flea Coverage: The Latest Addition to Proper Insurance's Comprehensive Short-Term Rental Policy
Proper Insurance is excited to announce another first-of-its-kind addition to our already comprehensive range of offerings: Flea Coverage. The addition of this coverage enhancement is a direct response to listening to the wants and needs of our clients. Proper Insurance's new addition of Flea Coverage has been added to our popular Bed Bug Coverage to protect owners and hosts from the financial burdens and added worries that comes with flea infestations at short-term rental properties.
This new coverage option demonstrates Proper Insurance's dedication to meeting and surpassing client needs, further strengthening short-term rental business owners against the unexpected challenges that come with the industry.
As an Airbnb/Vrbo host or property owner, it's important to have an insurance policy that adapts, addresses and understands the unique challenges faced in this ever-changing industry. With the addition of Flea Coverage, Proper Insurance continues to lead the way in providing comprehensive coverage tailored for the unique needs of short-term rental property owners, ensuring their businesses remain resilient against unexpected setbacks.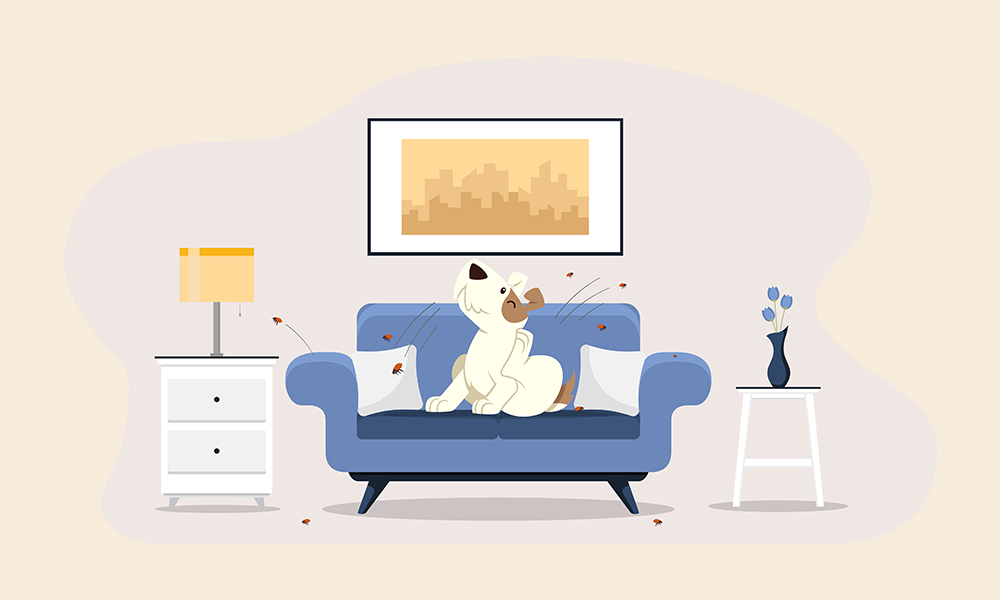 Proper Insurance Understands the Demands of the Industry
It's widely known that catering to customer preferences can greatly contribute to boosting your bookings on platforms like Airbnb and Vrbo. Offering an amenity like "allows pets" can contribute to your overall success if the appropriate measures are in place.
Pet-friendly rentals tend to command higher prices, have higher occupancy rates, and generate more revenue than non-pet-friendly rentals. As a result, allowing pets at your rental property can be a powerful feature for potential guests deciding on a short-term vacation home to stay at.
However, while allowing pets can increase your guest pool and hopefully your revenue, it also increases other risk exposures at your short-term rental. It's also true that these risks could still happen in homes that do not allow pets. We've seen it many times before — someone sneaks a dog into an Airbnb property, and it goes wrong in a number of ways.
Proper Insurance wants our clients to have successful short-term rental business ventures and allowing pets shouldn't be a barrier to that success. That's why we crafted our policy to include pet liability (think: dog bites), pet-caused damage (think: dog eats your couch), and now expenses related to flea infestations (business revenue, extermination and liability).
The Common Flea
Flea infestations can occur in vacation rentals whether they allow pets or not. These tiny, fast-breeding pests can quickly turn your vacation rental property into an uncomfortable environment for your guests and a liability issue for the host if a guest were to get bitten while staying at your property.
Identifying the Common Flea
Fleas are small, wingless insects that feed on the blood of their hosts, which can include both humans and animals. They're known for their extraordinary jumping ability, which allows them to easily move between hosts and spread throughout a property.
A single flea can lay up to 50 eggs per day, leading to a full-blown infestation in a very short time. Fleas can be brought into your short-term vacation rental property by any guest who owns a pet or has been exposed to fleas. Once inside, they can quickly spread from the pet to the furniture, carpeting, and other areas of your home.
The Financial Impact of a Flea Infestation
Fleas are more than just pesky parasites; they can cause a serious financial burden for short-term rental property owners. Here's a breakdown of some of the financial impact you might face if you have a flea infestation at your vacation rental:
Extermination fees: The financial impact of a flea infestation can be significant. The cost of professional extermination can range from $75 to $400 per treatment according to Angi, and severe infestations may require multiple treatments.
Booking disruption: In addition to extermination costs, you may also face lost income if you need to block out dates for treatment and cleaning. This can be especially impactful if the infestation occurs during peak rental season.
Liability: An additional cost you may absorb from a flea infestation is the potential liability if a guest gets bitten while staying at your property. Fleas can cause discomfort and health issues such as allergic reactions, itchiness, and in severe cases, diseases like typhus and plague.
Reputation: Furthermore, a flea infestation can damage your rental's reputation. Reviews mentioning fleas can deter potential guests, impacting your booking rates and overall revenue.
Coverage Enhancement: Fleas Added to Popular Bed Bug Coverage
After engaging in countless conversations with our clients about our popular bed bug coverage option, we heard a clear request for additional protection against fleas. Always attentive to the needs and concerns of our clients, we responded by introducing flea coverage as an added offering in our services.
We also understand the risk that a flea infestation can pose to a vacation rental business. Not only can they cause discomfort for guests, but they can also lead to significant financial losses due to extermination costs and lost business revenue.
That's why Proper Insurance first introduced Bed Bug Coverage and is now adding fleas to that coverage enhancement. This coverage protects you from the financial burdens associated with these infestations.
Proper Insurance's Bed Bug & Flea Coverage includes:
Bed bug and flea liability: This coverage protects you from financial losses if a guest gets bitten by bed bugs or fleas as well as if the bugs hitch a ride home with your guests from your property. Proper Insurance Bed Bug and Flea Coverage pays legal expenses and any settlement up to your insurance limit, which starts at $1 million.
Bed bug and flea extermination: This coverage pays for the cost of professional bed bug/flea extermination with no deductible.
Lost business revenue: This coverage pays for the revenue you lose if your property is out of operation due to a bed bug and/or flea infestation. This endorsement pays up to one week's (7 days) worth of lost business revenue after you first detect or are notified of bed bugs or fleas, with no deductible.
Please note that the combined maximum coverage limit of extermination cost plus the loss of business revenue is $15,000.
Upgrade Your Vacation Rental Insurance Coverage Today
Don't let short-term vacation rental insurance be a flea-ting task. With Proper Insurance's comprehensive Bed Bug and Flea Coverage, we've got you covered, so you can let your worries about these common pest infestations jump away.
Proper Insurance is the nation's leading short-term vacation rental insurance provider, with the most comprehensive policy on the market. We protect homes in all 50 states with unmatched coverage for your property, revenue, and business liability, customized to include guest-caused theft/damage, liquor liability, amenity liability (bikes, kayaks, hot tub, etc.), bed bugs and fleas, squatters, and more.
Give us a call at 866-631-6680 to receive a comprehensive coverage comparison or submit a request for a 3-minute quote today.