Airbnb Superhost Left Homeless with Guest-Damaged Townhome and Massive Debt
In the bustling city of San Francisco, a charming two-unit building nestled among the city's iconic architecture was home to an expectant mother, her husband, and their dreams. They had meticulously curated their property into a welcoming space for friends, family, and Airbnb guests.
Little did they know their tranquil life was about to be turned upside down by one catastrophic incident.
A guest, with a seemingly harmless act of flushing baby wipes down the toilet, triggered a nightmare that would result in a flood, destroying 50% of their precious home in only 15 hours.
Their story is sadly one we see often, where Airbnb is hard to reach when a host has a crisis. We wish to outline what happened in order to share how to avoid similar situations at your short-term rental property.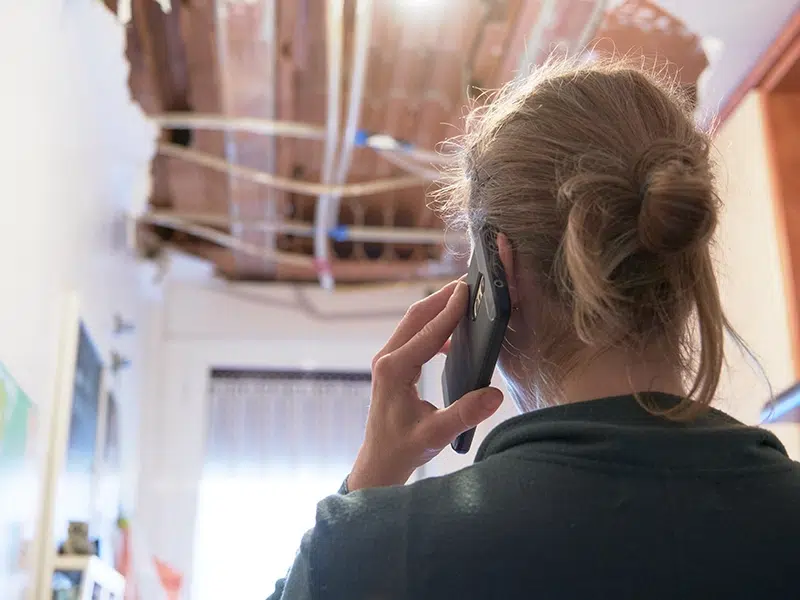 What Happened?
On an ordinary Friday morning, April 14th, Superhost who goes by Coach Erika on X, woke up to an alarming sound — the incessant dripping of water. The source was even more distressing; water was pouring from the ceiling and light fixtures of her two-unit building.
The upper unit, which she had listed on Airbnb after her long-term tenants moved out, was flooded due to a clogged bathroom toilet caused by an Airbnb guest. This incident marked the beginning of a nightmarish journey through extensive property damage, financial loss, and disappointing customer service from Airbnb.
The decision to list the upper unit on Airbnb had been a practical one for Erika and her husband. They wanted the space available for family members who would come to help when their newborn arrived. Little did they know this choice would lead to an ordeal that would leave them homeless, pregnant, and facing financial ruin.
This event resulted in a multi-hundred-thousand-dollar ($300,000 to be exact), multi-month home destruction and rebuild project. Erika's initial estimate for just drying out the house was a staggering $130,000. Costs that stacked up for Erika included: lost bookings, lost revenue, Homeowners insurance deductibles and premium increases, mortgage payments, guest-caused damage, appliance damage, cost of repairs and more. 
Trying to navigate through this crisis, Erika spent dozens of hours trying to get on the phone with Airbnb, only to be officially entered into the Airbnb case system after the guest declined responsibility for the damage. 
Struggle for Resolution
Thus began a grueling journey of seeking compensation from Airbnb.
In the face of this disaster, Erika sought help through the proper channels. She contacted Airbnb and lodged her complaint, expecting a swift resolution from a company that boasts about its AirCover Protection for Hosts. But instead of immediate assistance, she found herself entangled in a complex web of customer service representatives, third-party investigators, and unresponsive executives.
As days turned into weeks, and weeks into months, Erika's pleas got her no closer to a resolution. Her attempts to escalate the issue were met with frustrating silence. Meanwhile, Erika's home was in ruins, her financial resources were depleting, and her stress levels were skyrocketing. And to add insult to injury, after six months of this ordeal, Airbnb revoked Erika's Superhost status, adding yet another blow during an already distressing time.
Resorting to Social Media
Desperate for help, Erika decided to share her story publicly, hoping it would reach someone at Airbnb who could make a difference. She penned an open letter detailing her ordeal and posted it on various social media platforms. Her digital "SOS note in a bottle" was a plea for assistance, a call to action, and a warning to other hosts about the potential risks involved.
Erika's story began to gain traction, quickly amounting to more than 20M views and an exclusive story by the New York Post. The San Francisco Standard also interviewed her and took photos of the damaged house. Despite the growing public attention, Erika states that there was still no response from Airbnb.
On Thursday, October 19th, almost six months after the incident, Erika updated her followers with disappointing news — there was still no resolution in sight. The struggle was far from over, and the financial ruin seemed imminent.
Verify Your Short-Term Rental Insurance
The harrowing ordeal faced by Erika underscores the potential risks and challenges associated with renting out properties on platforms like Airbnb and highlights the faults in relying on booking site guarantees like Airbnb's Aircover. The severe damage to her home due to a guest's misuse of the toilet led to significant financial losses, and despite her persistent efforts, the support and compensation she received from Airbnb fell grossly short of her actual expenses.
Proper Insurance is the nation's leading short-term rental insurance provider protecting homes in all 50 states, replacing inadequate Homeowners/Landlord policies. Their comprehensive coverage meets or exceeds standard short-term rental requirements with $1M Commercial Liability (CGL) and unmatched protection for your property and revenue. Additional custom coverages include guest-caused theft/damage, amenity liability (bikes, kayaks, hot tub, etc.), bed bugs, fleas, squatters, and more.