It's important for property managers to understand what our Business Income – Property Manager's Commission endorsement is and how it's triggered in the event of a claim.
Thank you to all the great property managers across the U.S. that recommend Proper Insurance® to their owners.  As you know, we try and keep our message straightforward, "when your owners ask about insurance, call Proper 888-631-6680 | it's that simple!"
Our book of clients has grown into the thousands, and with this growth, inevitably comes claims.  Mostly the normal stuff consisting of water damage, fire, theft, wind, and standard liability injuries.  But what about the commissions a property manager loses when a claim is filed and the property is "uninhabitable" to rent?
The Proper Insurance policy carries a first-of-its-kind endorsement, Business Income – Property Manager's Commission.  However, this endorsement is not enforceable unless the property management contract specifies as such.  Below is the actual endorsement.  Please review and then we'll explain how it works.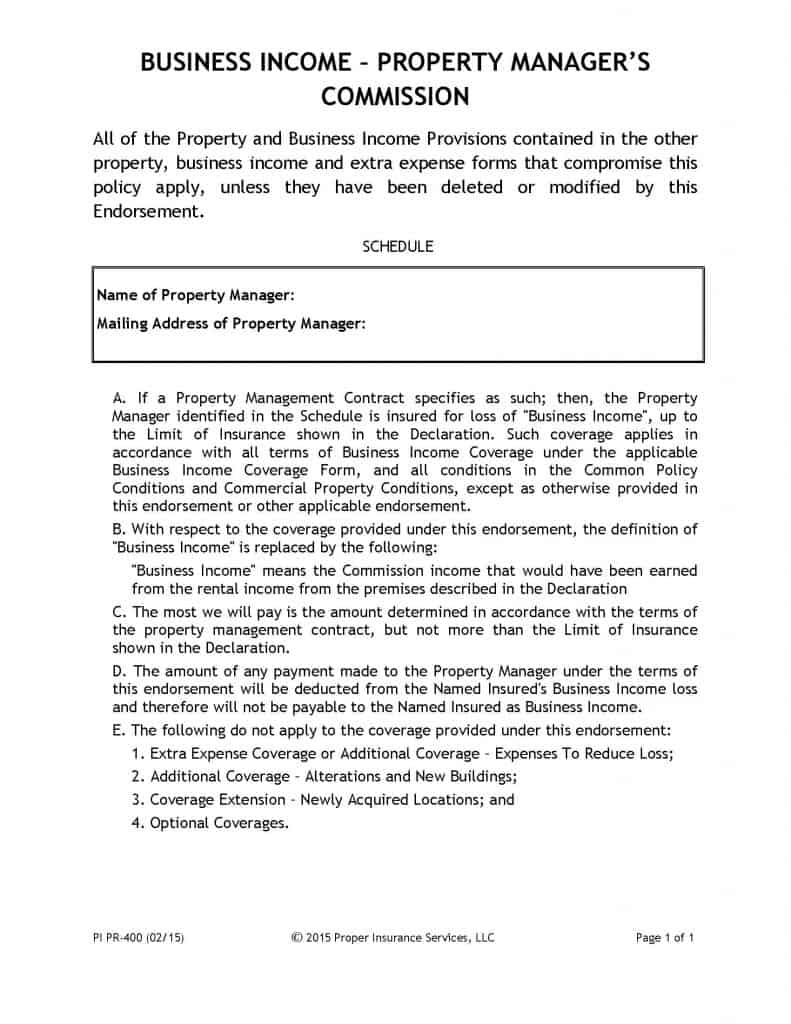 In the insurance world, we like to use examples. 
Example Scenario
During peak rental season, an owner whose property you manage carries the Proper Insurance policy and files a claim for water damage resulting from the back-up of sewers and drains.  This is a covered cause of loss, and the property damage is repaired and replaced.  As a result of this claim and the replacement of property, this property becomes uninhabitable to rent for 60 days.
This claim also triggers business income coverage.  The business income would be payable to both the owner and the property manager.  Let's assume the "normal commission" for the manager is 30%.  If the actual loss sustained for the 60 days was $20,000, then the policy would pay out $14,000 to the owner, and $6,000 to the property manager.
Again, this payment to the property manager would only be enforceable if the property manager contract specified as such.
What is specified as such?  
This means that somewhere in the property management contract with the owner, there needs to be language regarding insurance, particularly business income.  Below is sample language that could be used:
Insurance:  In the event that the property owner carries insurance coverage for "business income", and a claim is triggered, XYZ Property Management Co. is entitled to lost commissions if the insurance policy specifies as such.
Our experience thus far with insureds has been very favorable regarding this topic.  First, owners thank their property manager for leading them to Proper in the first place, and second, when a claim arises, it's usually the manager who is on site working with the adjuster and making certain the property is up and running as quickly as possible.  The commission income endorsement is a non-issue, and the owner is thankful the property manager commission was paid.
Change the Language in Your Contract
Proper continues to grow and hold its place as the top referral for property managers when their owners ask about insurance.  It's important to take advantage of this endorsement and protect your commissions in the event of a Proper Insurance claim.
Make sure and call or email with any questions regarding this endorsement.  We are here to help.  888-631-6680, 
Thanks and keep the referrals coming!
Quote Your Short-Term Vacation Rental Today
Interested in a policy to protect you and your business from liability and damage claims? Proper Insurance leads the Nation in short-term rental insurance, with over 50,000 policies written in all 50 states. Backed by Lloyd's of London and exclusive endorsements from vacation rental leaders such as HomeAway and Vrbo, Proper Insurance is built on world-class insurance coverage.
Proper's policy covers vacation homes, townhouses, condos, duplexes, cabins, cottages, apartments, and more. With expert vacation rental underwriters, we can tailor a policy specific to your short-term rental property.
Subscribe To Our Blog:
Want to stay up to date on short-term rental news, regulations, and more? Simply subscribe for blog updates.