Whether you're an animal lover or not, you've surely contemplated whether or not to allow pets in your vacation home.  It's important to understand the pros and cons of allowing pets and the pet liability risk that you could be facing before an issue arises.  While allowing pets can greatly increase your guest pool, it can also increase the pet liability risks at your short-term rental.  
In this article you will find: 
Pros of Allowing Pets at Your Vacation Rental
Airbnb reported that the number of amenities searched using the "allow pets" filter jumped 90% compared to last year!  We can't tell for sure, but this is likely due to travelers booking longer stays and not wanting to leave their pet behind, due to remote work becoming more popular.  Allowing pets at your rental can be a powerful feature to those deciding what vacation home to choose.  Opening your vacation home to pets provides many benefits in return, compared to those that don't allow pets.  Some of these benefits can be: 
Widen your guest pool.  Allowing pets can open your rental to an extra 70% of guests who own pets and don't want to leave them behind. 
Earn more revenue.  As a short-term rental that allows pets, you have the option to charge a higher price or set up a pet fee. 
Attract more responsible Guests.  Many hosts have reported that pet owners have been some of the most responsible guests that they have.  They believe that pet owners already have the responsible trait of owning an animal and that they will respect your home. 
Improve your reputation.  Pet owners always have pet owner friends.  It is highly likely that after their stay they will go recommend the pet-friendly rental to their pet owner friends.  They also will be more likely to return to your short-term rental already knowing that your home is pet friendly. 
Cons of Allowing Pets at Your Vacation Rental
Not my pet, not my problem? Unfortunately, this is not the case.  As the owner, you could be held responsible for your guests or neighbor's pets.  This is because you have invited your guest into the neighborhood and allowed them to bring their pet.  As for your neighbor's pet, you have advertised the property and surrounding neighborhood as a safe place to stay for guests.   
In 2017, StateFarm reported dog bites and dog-related injuries accounted for more than a third of all homeowners' liability claim dollars paid out, adding up to $700 million.  This goes to show that it's important to be aware of the pet liability risks that could arise by allowing pets in your vacation home.   
Damage.  We all know that pets can cause damage whether it's destroying a screendoor or tearing apart the couch, and now they could be doing it at your rental.  Most policies have *occupancy restrictions stated in their policies, so in the case of a guest's dog damaging your home, they would not respond and would tell you to take it up with your guest.  If you have Proper, our policy will respond because we have no *occupancy restrictions and have removed the exclusion for *'property entrusted to others'. 
Barking.  No one likes a barking dog in the middle of the night or during the day, especially the neighbors.  You don't want to be receiving a call from your angry neighbors, reporting that your guest's dog won't shut up. 
Allergies.  This might not be the first thing that comes to mind when allowing pets at your vacation rental but it's important to consider.  Allowing pets could turn away guests that have allergies to the common pets because they don't want to spend their vacation stuffed up with puffy eyes.  
Dogs Bite!  This is probably one of the more important factors to consider when evaluating the pros and cons of allowing pets at your rental.  Imagine this…your guests bring their dog, and that dog runs out of the house and bites the neighbor when they are out on a walk.  Your neighbor sues not only the dog owner but also sues you for advertising and allowing a dog into the neighborhood.  It's important to protect yourself from the legal fees associated with a pet or animal harming a guest or neighbor. 
A standard landlords' insurance will typically cover up to $100,000 in liability but in a severe incident, you could be looking at a payout that exceeds $100,000.  Keep in mind that these are the few policies that don't exclude animal and pet liability coverage.  Most policies have exclusions written at the end of their policies such as: 
Exotic pets

 

Specific dog breeds

 

Dogs with a history of biting

 
Therefore, these policies don't provide the short-term rental owner with coverage for any of the exclusions written in the policy and the owner would have to pay the legal fees and any settlement costs out of pocket.  Whereas the Proper policy does not have the above exclusions and covers up to $1,000,000 per occurrence of commercial liability standard with an option to upgrade to $2,000,000.  Keep in mind that the $1M/$2M is in addition to the cost of defense lawyers which are completely paid for by your insurance company. 
It's also important to consider that in the above example, your guest's dog bit your neighbor on the street, which means they were beyond your property line at the time. This is important because if you carry a landlord-type policy your liability protection is most likely premises liability, meaning that it will only respond in cases where the incident happened ON your property. Once it goes beyond that, you're on your own. This is one of the reasons that Proper uses the Commercial Liability form to insure your short-term rental. Commercial Liability is not restricted to your property line so you can think of it as following your guests, and their pets, wherever they go while they're staying at your vacation home. 
Service Animals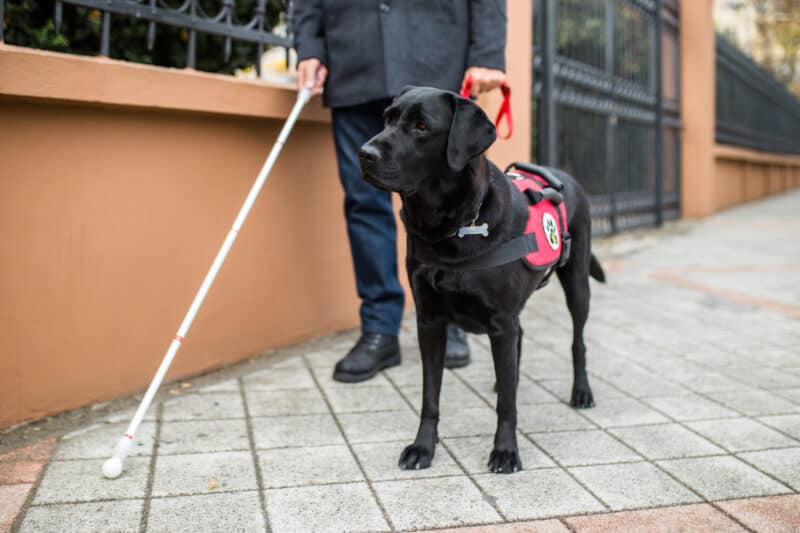 What about emotional support animals? Legally, you must make accommodations for people with service animals, no matter what species they are. Technically, a person with a service animal can even rent a property that says, "no pets." This can be a tricky grey area where the law is not on your side. This is something that, as a property owner, you should be aware of in case the situation ever arises. 
Ultimately, it is your property, and you must decide what makes the most sense for you and the way you would like to market your short-term rental to potential guests. 
If I Do Allow a Pet at My Rental, What Should I Keep in Mind?
After evaluating the pros and cons of allowing pets at your vacation rental, are you now deciding to let guests bring a pet?  Allowing pets can be a great way to set your property apart from others but just keep in mind that you are still at risk for pet liability concerns.  Here are a couple of things to keep in mind to reduce any pet liability issues at your rental: 
Be sure to check with your HOA and local ordinances because there could be regulations regarding certain areas where pets aren't allowed.  It's also important to outline these regulations within your rental agreement.

 

Do you prefer just allowing small or medium dogs?

 

Should I charge a pet fee or deposit?  This is very common within the rental industry, and they can refundable or not.

 

Verify your insurance policy.  Make sure that your policy does not have an exclusion for pet liability.  If it does not, you'll also want to make sure it doesn't limit or exclude animal or pet liability involving specific types of pets/breeds.  At Proper, we don't have any animal or breed exclusions within our animal and pet liability.

 
Wildlife Liability
Is your vacation property a cabin located in bear country Montana or a waterfront property near high alligator populations in Florida?  This is a completely different risk than pets that you as a host need to prepare your guests for any wild animal encounters.  Say your guest is taking a walk around your property in the woods and encounter a mamma bear and her babies.  The mamma bear gets spooked and charges your guests.  Even if your guests aren't badly harmed, they still could be angry and scared enough to sue you for not warning them about the bears in the area.  It's important that you verify your insurance to make sure that your current policy doesn't have an exclusion for animal liability.  If your policy has an animal liability exclusion you would be left dealing with the legal fees, but with Proper, we do not have an exclusion for animal liability and would have you covered. 
Verify Your Insurance Today
After reading the pros and cons of allowing pets at your vacation rental, are you looking for an insurance plan that doesn't exclude animal and pet liability coverage? You've come to the right place!  If you are sued because of a pet or animal harming either a guest or neighbor, unlike most insurance companies, Proper will respond to the claim and provide you with full legal defense coverage and no time limit on business income loss.    
The Proper Insurance policy carries $1,000,000 per occurrence of commercial liability standard with an option to upgrade to $2,000,000.  A business insurance policy carries commercial general liability, and it extends off the premise. It's the most comprehensive liability coverage a business can purchase. With so much foot traffic at short-term rentals, it's just a matter of time until someone is injured at the property. When this happens, there is a good likelihood the property owner and manager if applicable, will be sued for the bodily injury costs.  If your insurance company deems short-term renting and collecting money on a regular basis from your home a business transaction, then virtually any injury claim could be denied. Put your liability insurance to the test, and we promise that you will find that commercial liability insurance is what you need. 
Insurance Glossary
*Occupancy Restrictions – These restrictions cover the insured policyholder but would not insure the policyholder for anyone else's actions. 
*Property Entrustment to Others – One of the exclusions that would fall under Occupancy Restrictions within a policy.  This exclusion is to disallow an insured form benefiting from an insurance policy for the losses that result from dishonest acts, such as theft, by either the insured or anyone to whom the insured has entrusted the insured property.  Being that the person who was trusted with the property is in a position of confidence with the insured, insurance companies do not want to pay for the mishaps that occur as a result of the insured's poor judgment of character. 
Subscribe To Our Blog:
Want to stay up to date on short-term rental news, regulations, and more? Simply subscribe for blog updates.