Active Airbnb Laws and Regulations in the State of Arizona
Arizona cities and counties are seeking to adapt to local Airbnb laws and regulations due to short-term rental growth. City councils hope that regulations on vacation rentals will ensure safety for local neighborhoods which are now a mix of businesses and full-time residential properties.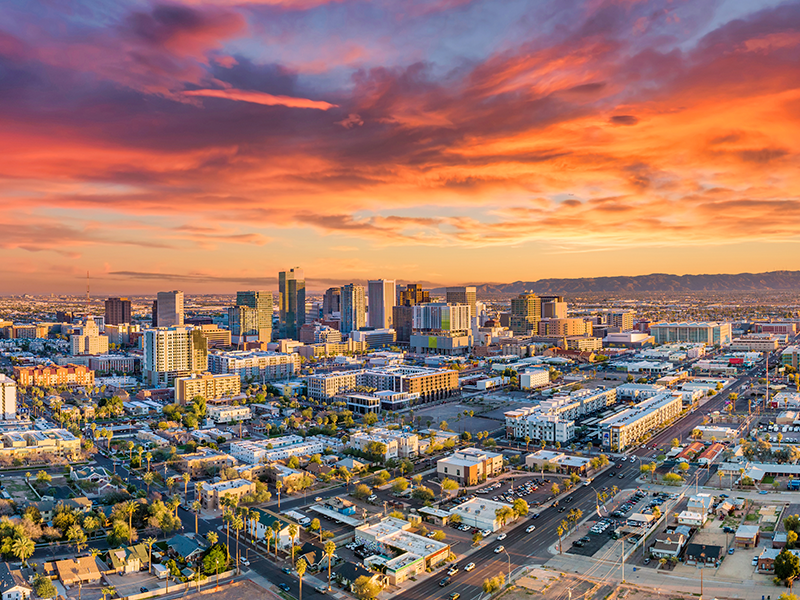 Phoenix, AZ Approves New Airbnb Laws and Regulations
At the start of January 2020, Phoenix implemented Airbnb laws and regulations for short-term rentals requiring hosts to register their rental properties with the city. The city hopes the new regulations will cut out party houses and ensure safe neighborhoods for locals and guests. Ordinance G-6653 includes vacation rental requirements, violations, and enhanced penalties. When registering for a vacation rental permit the owner must include the following information:
Property owner name
Vacation rental address
Phone number and email address of the property owner or property owner's agent who has the authority and responsibility to respond to complaints in person, over the phone, or by email at any time of the day.
Interested in starting your own Short-Term Rental Business? Continue to the City of Phoenix's User Guide to learn more about their Airbnb Laws
NEW Amendments Airbnb Laws in Paradise Valley, Arizona – Includes Liability Insurance Requirement
There are many new Airbnb law changes and additions to the Paradise Valley, Arizona Short-Term Rental Ordinance. Below are some of the more important changes to take notice of: Booking Information The new ordinance states that within 24 hours of every booking the owner of the vacation rental shall promptly provide the information below to the Town, on a form or a platform specified by the Town.
A copy of the Short-Term Rental's advertisement or listing upon which the relevant booking occurred, along with the name of the Online Lodging Marketplace accommodating the listing;
The dates for which a guest booked the Short-Term Rental and the number of people in their party;
Evidence of compliance with Section 10-14-5(B).
Evidence that the booking guest has acknowledged receipt of the statement of rules and regulations prepared by the Town, and has agreed by that acknowledgment to comply with such rules and regulations.
Enhanced Penalties
First offense – $500
Second offense on the property within 12 months – $1,000
Third and subsequent offense within 12 months – $1500
Within the new vacation rental Airbnb laws, the Town of Paradise Valley has included a liability insurance requirement stated below:" Have either (1) liability insurance to cover the Short-Term Rental in an amount determined appropriate by the insurance company insuring such Short-Term Rental, but in no case, an amount less than one million dollars ($1,000,000) in the aggregate, or (2) equal or greater insurance coverage is provided for the Short-Term Rental through the Online Lodging Marketplace through which the property is booked " – Section 10-14-5.(B).(1).(a)One of the biggest areas of risk exposure when operating a short-term rental is liability. The second that you open your door to guests, your liability risk immediately increases. Whether it's a slip and fall or a fire in the suite, you as the host can be held liable. By including an insurance requirement of no less than one million dollars in aggregate, we can assume that the city council has seen the increased risks of short-term renting and want to ensure that you're properly protected as a host. We at Proper Insurance understand the importance of a policy that'll protect your short-term rental operations and have custom-written a commercial general liability policy specific to vacation rentals.The City Council notes in part 2 of the insurance requirement that insurance coverage through an online lodging marketplace would be sufficient. If you as a host are leaning towards using the hosting platform's insurance provided, we highly recommend that you read through the policy, as it may state that it's insurance but won't actually provide you with the coverage you need. For example, Airbnb's AirCover Protection Plan does NOT actually replace your homeowner's insurance. We understand that insurance can be confusing and that's why we've written a blog that dives deeper into the AirCover Protection Plan and lays out what you should be aware of regarding their policy. Read the blog here: A Deeper Look Into Airbnb's AirCover Protection.
Quote Your Short-Term Rental Today
Looking for a policy that'll protect you and your rental business from liability and damage claims? Proper Insurance leads the Nation in short-term rental insurance, with over 100,000 policies written in all 50 states. Backed by Lloyd's of London and exclusive endorsements from short-term rental leaders such as HomeAway and Vrbo, Proper Insurance is built on world-class insurance coverage that meets and exceeds both city and lender requirements.