Current Airbnb Laws and Regulations for Popular Tourist Destinations in Colorado
As popular tourist cities in Colorado continue to receive an influx of visitors, the need for short-term rentals continues to grow. With the rapidly expanding demand for these rentals, city officials are understanding the need to further regulate existing Airbnb laws and regulations. Updates to insurance requirements, licensing fees, and minimum stay policies can be found below.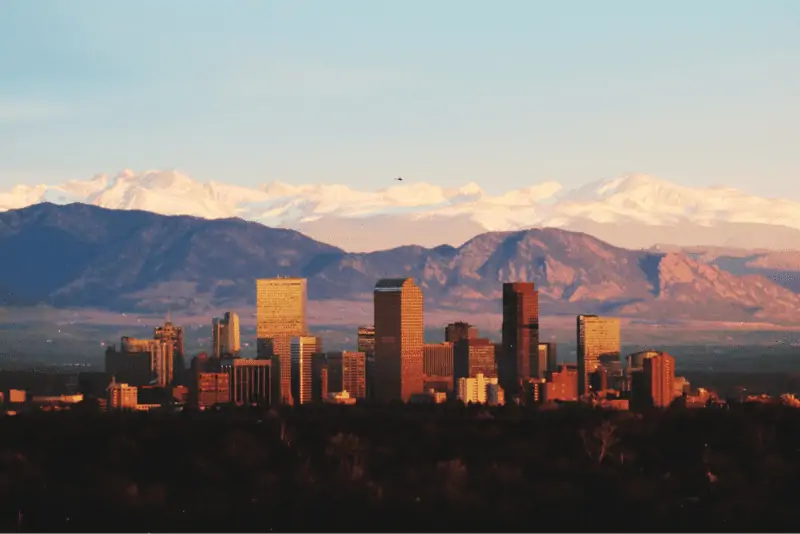 Denver, Colorado Expands Upon Current Airbnb Laws and Regulations
Denver implemented Airbnb short-term rental laws and regulations in 2019, requiring hosts to maintain $1,000,000 liability insurance. Without sufficient liability insurance coverage and the subsequent short-term rental permit, hosts are not able to operate their businesses. Currently, hosts are only permitted to rent out their primary residence, defined as the usual place of return for housing. View the rules and regulations for short-term rentals here.
The current guidelines include:
Short-term rental licensees must carry a minimum of $1 million worth of liability insurance for the property being used as a short-term rental.
Short-term rental licensees will be required to notify their regular home or apartment insurers or their Homeowners Association (HOA) of their plans to turn their dwelling into a short-term rental.
A short-term rental license can be revoked or sanctioned, and an application for a new license can be denied if a rental property is found to be adversely affecting the public health, safety, or welfare of the immediate neighborhood in which the property is located.
Short-term rental licensees must submit any changes to the name or contact information for a "Local Responsible Party" to the Department of Excise and Licenses within 30 days of the change.
As tourism in Denver continues to expand, the City hopes to strike a balance between preserving the character of their neighborhoods through regulations while allowing hosts to take part in the short-term rental industry.
Boulder Colorado Approves New Two-Day Minimum Stay Requirement
Boulder unanimously approved new short-term rental Airbnb laws and regulations in 2020 specifically affecting hosts who rent for more than 60 days per year. These frequent rentals are prohibited in dense neighborhoods made up of primary residence homes. In addition, properties that are rented for less than 60 days per year are limited to 2-night minimum bookings.
The following Airbnb Laws and Regulations are Currently Enforced in Boulder:
Hosts must reside at the rental property for more than one-half of the year, otherwise known as the owner's principal residence.
Hosts must secure a short-term rental license, and the name on the license must be the same as the name on the deed for the property, the owner must be a natural person, trust, or nonprofit organization.
The owner must verify that the number and location of smoke and carbon monoxide detectors meet the requirements outlined in the application packet.
The owner must follow the city's occupancy limits outlined in the application packet.
Once issued, a Short-Term Rental Annual Affidavit and fee must be submitted by the issuance anniversary date to maintain your Short-Term Rental License. If the Annual Affidavit to certify principal residency is not completed, the license will be revoked.
The licensing fees for new applications are $130, payable to the City of Boulder.
Arvada Changes Legality of Short-Term Rentals
There have been a few big changes to Airbnb laws and regulations since the October 2020 ordinance passed in Arvada allowing short-term rental properties. As the market in Arvada quickly expanded after the passing of the ordinance, the City determined further regulations were necessary.
Beginning in August, requirements for Airbnb properties include the following:
Hosts are required to secure a short-term rental permit prior to listing their property
Hosts can rent no more than three Airbnb properties in the city at any given time
Hosts can rent their Airbnb for no more than 240 nights of the year
Hosts may be required to provide a notarized document confirming these items
The City hopes new regulations will keep hosts from maneuvering the system and listing and licensing more than three properties under different LLCs. Essentially, they hope to maintain a stable housing market for families looking for a place to settle down. While regulations are no surprise, the requirements can vary widely city-to-city.
Longmont Updates Airbnb Laws and Regulations and Discusses New Ordinance
The Longmont City Council adopted Airbnb laws and regulations in 2019 governing short-term rentals, including requirements for an annual permit and City inspections to ensure that rentals comply with building occupancy and life safety requirements and don't create a nuisance for the surrounding neighborhood. These Airbnb laws and regulations were passed after much debate on how to manage short-term rentals.
The following regulations are currently in place in Longmont:
All short-term rentals in Longmont require a short-term rental permit and a sales and use tax license.
Existing short-term rentals are not exempt, and unlicensed short-term rentals are subject to code enforcement.
The occupancy of an entire dwelling being rented is limited to no more than two people per bedroom, plus two additional people. Each bedroom rented must be a legally conforming bedroom under the city code.
Dwellings with more than five bedrooms rented for short-term rentals require a fire suppression sprinkler system.
All short-term rental dwelling units in Longmont now must get a city permit and a sales and use tax license, which includes a one-time $25 fee.
Operating a short-term rental without a permit in violation of the city's municipal code can result in fines of up to $500 daily.
Unlicensed short-term rentals will be subject to code enforcement, notices of violation, and shutdowns, officials said.
Longmont residents who own a second, or an investment, dwelling unit can also rent that unit for short terms, subject to occupancy limits and other city requirements. Property owners who do not live in Longmont may not offer the property in Longmont for short-term rentals. Recently in 2021, a new ordinance was proposed in order to add various regulations to the previous legislation. If passed, updates to previous legislation include:
The city planning director would be given the discretion to require additional documents from the homeowner-applicant.
The homeowner would have to provide such documents as a valid Colorado driver's license or a valid Colorado state identification card, and at least two additional documents indicating that either the short-term rental is the applicant's primary dwelling, or that the short-term rental is a second or investment property belonging to a Longmont resident.
Broomfield Colorado Updates Airbnb Laws and Regulations to Allow Owner-Occupied Short-Term Rentals
The city of Broomfield has passed an ordinance updating the previous Airbnb laws and regulations. As per the municipal code, Chapter 5-39, only principal residencies are allowed to be rented given that the owner has the license to do so. In order to mitigate noise and traffic, there are occupation limits determined by the size of the property being rented. Operators of the rentals need to also follow city laws regarding noise and disturbance of the peace. Short-term rental operators must have sales and lodging tax licenses.
The short-term rental requirements for owner-occupied dwellings include:
The property owner must reside in the dwelling for more than one-half of the year.
The property must not be rented out more than 20 days in one month.
The spouse or domestic partner of a property owner must not have a different address.
The property owner's driver's license, voter registration, or any dependent's school registration must show the same address.
The property owner's mailing address must be listed as the address of the dwelling being rented.
Comprehensive Short-Term Rental Insurance
Across the US, properties are being converted to full-time short-term rental properties, often homes that serve as a host's primary residence. Short-term rentals can be a great way to earn extra income from properties that one may already own, however, these are business ventures and should be treated as such. As short-term rentals come with immense property and liability exposures, it's important that you make sure you have the best insurance coverage to protect your business. Traditional homeowners policies exclude coverage for "business activity" (i.e. short-term rental), meaning, the policy you currently have may not be enough.
With a policy from Proper Insurance, you will have comprehensive short-term rental insurance to cover your primary residence or investment property. Proper provides coverage for building, contents, income, and liability ($1,000,000 commercial general liability, with the option to increase to $2,000,000 if the property is also your primary residence).
Quote Your Short-Term Vacation Rental Today
Interested in a policy to protect you and your business from liability and damage claims? Proper Insurance leads the Nation in short-term rental insurance, with over 100,000 policies written in all 50 states. Backed by Lloyd's of London and exclusive endorsements from vacation rental leaders such as HomeAway and Vrbo, Proper Insurance is built on world-class insurance coverage. Proper's policy covers vacation homes, townhouses, condos, duplexes, cabins, cottages, apartments, and more. With expert vacation rental underwriters, we can tailor a policy specific to your short-term rental property.
Given that STR laws and regulations are always changing, we rely on our community to keep us informed. If you have any additional information or updates relating to our posts, let us know at info@proper.insure!