Current Airbnb Laws and Regulations in New York – What to Know When Hosting in The Big Apple
As New York is #5 in the most visited states in the U.S., tourism is one of the main sources of income for residents in various cities, towns, and counties within New York. Despite this influx of tourists to the State every year, city officials are slow to update or even pass legislation allowing residents to operate a full-time short-term rental. Current Airbnb laws and regulations and recent updates can be found below.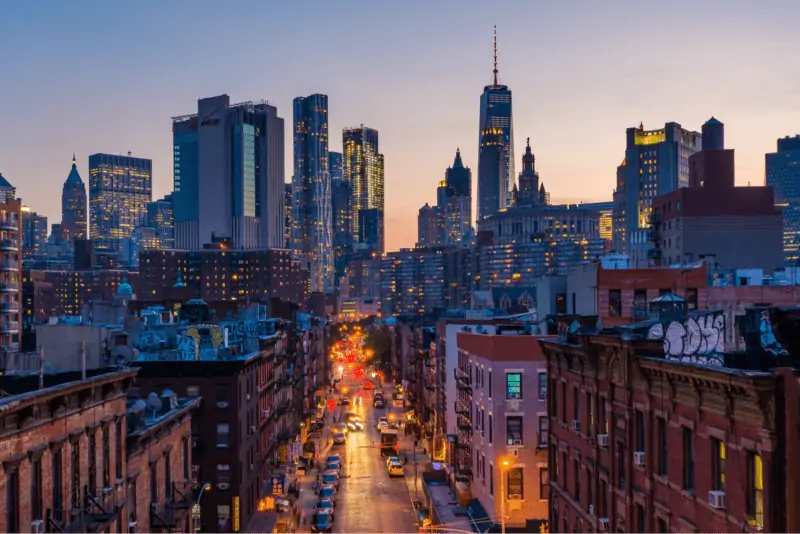 Buffalo, New York Updates Registration Requirements and Airbnb Laws for Short-Term Rental Hosts
In November 2019, the city of Buffalo passed an ordinance updating previous Airbnb laws and regulations, now requiring short-term rental hosts to register their properties through the Department of Permits and Inspections Services. Seen largely as a first step, this ordinance will require short-term Airbnb rental properties to pay a fee to the governing body, as well as maintain a local contact with the city in case of emergency. The nearby town of Amherst, NY has recently passed similar legislation after co-writing the ordinance with Buffalo.
Owners must submit a business license application to the Department of Permit & Inspection Services. For owner-occupied rental dwellings, the first-time registration fee is $150 with a $75 annual renewal fee. For non-owner-occupied rental dwellings, the owner must file for a special use permit with the Department of Permit and Inspection services and the registration fee is $250 with a $150 annual renewal fee. Owners who reside outside of Erie County must designate a local agent.
This ordinance is welcomed by much of the community, many of whom see it as the first step on the path to greater and more formal regulation of short-term vacation rentals. Regional precedent has been set by neighboring Massachusetts, which is treating short-term rentals similarly to hotels- requiring not only registration but also vacation rental operators to carry a minimum of $1,000,000 in liability insurance.
Many owners/operators understand the benefits that regulation brings to the industry and have taken steps to protect themselves and their property with commercial insurance, designed specifically for short-term vacation rentals. Platforms such as Vrbo have also partnered with industry leaders in providing information and education on insurance and updates on ordinances and regulations. Solutions such as Proper Insurance® meet and exceed local ordinances while providing exceptional protection designed for the risks vacation rental owners and their properties face.
Updated Regulations for Hosted vs. Unhosted Airbnb rentals in Lake Placid, New York
The governments of Lake Placid and the Town Board in North Elba, where Lake Placid is located, passed new Airbnb laws and regulations when creating a permit system in 2020 to govern short-term rentals after five years of discussion. Two years later as the short-term rental business grew across the state and locally, residents complained that renters were rude and noisy. Officials in both the village and town put a moratorium on permits to give themselves time to amend the laws. The moratorium was set to expire in the summer of 2022, and city officials have since debated extending it.
Over the past six months, officials in North Elba and Lake Placid sharpened definitions and distinguished between hosted and unhosted Airbnb short-term rentals. At a hosted rental, the property owner or an operator is on site and the boards seem unlikely to curtail permits for that type of use. Owners of unhosted rentals in Lake Placid will be required to have a caretaker who can get to the property within 30 minutes; in the town the deadline will be an hour. There are currently approximately 200 short-term rental permits in the town and village combined.
Elected officials are still debating revisions to the law. Those revisions will likely result include the end of unhosted rental permits in residential areas. Owners who already hold permits will be able to keep them, but once the property changes hands, the permit ends. Other proposed changes switch penalties for violating the local law around short-term rentals from criminal to civil, which can make it easier to prosecute. The village board will also create a compliance monitor position to respond to residents' complaints concerning short-term rentals. There is no limit on short-term rentals in Lake Placid's village center.
Various local organizations and residents are striving for compatibility, as resort communities such as Lake Placid have always had short-term rentals of this type. Although there is still much debate about hosted versus unhosted properties and how to strengthen ordinances, Lake Placid does have various Airbnb laws and regulations in place. Hosts must register the property with Essex County and apply for a permit. When applying for a permit, hosts must confirm the following:
I certify I have notification from an insurance company acknowledging the property is used as a short-term rental.
I certify all smoke alarms and carbon monoxide detectors are in correct working order and that the correct number of devices are installed per the NY State Building Code.
I certify a working fire extinguisher is in each cooking area and in close proximity to each open flame source.
Owner supplied advertisement for the unit being considered for short-term rental.
Understanding Short-Term Rental Regulations in Insurance Terms
It's easier to accept regulations once you understand that cities view short-term rentals as businesses. As with any other business, short-term rentals need to ensure they have Proper Insurance coverage to protect against any accidents.
When you welcome a paying guest into your home, liability concerns may arise. As the cities seek to protect their communities, it's important that you make sure you and your business are protected as well. You may have a traditional homeowner's policy for your short-term rental, but that coverage is simply not enough. Most homeowner's and landlord policies have a "business activity exclusion." That's bad news for hosts.
The good news is you can find a full-replacement, comprehensive short-term rental policy with Proper Insurance. Proper Insurance offers coverage for vacation homes, cabins, cottages, apartments, and more. With coverage for your building, contents, income, and liability you'll have all the coverage you need to run a successful business.
Village of the Branch Passed Airbnb Laws in Hopes of Increasing Tourism in the Town
Village of the Branch, a small town in New York, passed new Airbnb laws and regulations in May of 2018. These new regulations allow residents to list their properties on sites such as Airbnb and Vrbo. While the small town is only 1 square mile in size, officials recognize that short-term rentals may help bring more business to the area during the Summer. The rental regulations for short-term hosts in the Village of the Branch are as follows:
Rules apply to leases of 30 days or less and include conditions intended to maintain quality of life for neighbors.
Homeowners must apply for a permit to rent ($50 annually), and only owner-occupied homes with on-site parking are eligible for rental.
Parties are forbidden after 10 p.m., and homeowners can rent no more than two bedrooms.
Is Your Short-Term Rental Also Your Primary Residence?
If your short-term rental is also your primary residence, you need to make sure you have the correct insurance coverage. A traditional homeowners policy provides you with personal liability; however, it doesn't provide sufficient coverage for your business activity (i.e. your short-term rental). It is important to have a comprehensive commercial general liability policy.
The good news is, with Proper's policy, you can have both! Proper offers personal liability and commercial general liability when your short-term vacation rental is also your primary residence. With $1,000,000 in commercial general liability and the option to increase to $2,000,000, you'll have the perfect coverage for your personal use and the unique risks of operating a short-term vacation rental. Proper's policy meets and exceeds local city requirements and provides the best coverage possible for your short-term rental.
Southampton Two-Week Rental Regulations Remain
The town of Southampton updated the Airbnb laws and regulations in 2018. The current legislation allows residents to rent out their home for a maximum of two weeks. Hosts must also obtain a short-term rental permit in order to operate. There has been debate about updating these regulations, but city officials have not taken any significant steps since the current laws were proposed and passed in 2018.
New York City New York Updates Zoning and Regulations for Airbnb Short-Term Rental Hosts
New York City, NY, has updated its zoning laws and minimum day requirements for hosts. The city has been fully enforcing the day requirement, fining hosts that do not follow regulations. Current Airbnb laws and requirements are listed below:
You cannot rent out an entire apartment or home to visitors for less than 30 days, even if you own or live in the building.
You must be present during your guests' stay if it is for less than 30 days.
You may have up to two paying guests staying in your household for fewer than 30 days only if every guest has free and unobstructed access to every room and each exit within the apartment.
Internal doors cannot have key locks that allow guests to leave and lock their rooms behind them. All occupants need to maintain a common household, which means, among other things, that every member of the family and all guests have access to all parts of the dwelling unit. Internal doors with such key locks create barriers to escaping in an emergency and may result in the issuance of a temporary vacate order.
Under the NYC Administrative Code, property owners are responsible for ensuring their properties are always maintained in a safe and code-compliant manner. Property owners can and will be issued the violation for any illegal short-term rentals at their property — even if it is conducted by tenants.
New York State law also prohibits the advertising of an apartment in a Class A multiple dwelling, generally a building with three or more permanent residential units, for rent for any period of fewer than 30 days. Fines for doing so range from $1,000 to $7,500 and will be issued to the person who is responsible for the advertisement.
Cold Springs Updates Airbnb Laws and Regulations Enforcing Zoning for Permits
The Cold Spring Village Board adopted a local law that regulates short-term Airbnb rentals. The resolution was passed on July 29th, with a 3-2 vote. Major Dave Merandy states that "This law is to stop the proliferation of STRs. It's not in a business district, it's in a residential district. People in a residential area do not want to live in a commercial area."
New Permit Requirements:
Short-term rentals will be allowed only in the R-1, I-1, and B-1 zoning districts
All STRs in an R-1 or I-1 zoning district will be required to have one off-street parking space
Temporary structures, tents, trailers, and recreational vehicles are prohibited for the purpose of STRs
A registered STR cannot abut another registered STR
If a building contains multiple residences, only one residence in the building shall be permitted to obtain a short-term rental permit
Properties owned by corporations, LLCs, and other such entities cannot be used as an STR unless the property is Owner-Occupied by one of the individual owners of the entity
Current Regulations for all Short-Term Rentals in Cold Springs:
The operation of an STR must comply with the following new regulations:
All short-term rentals shall be offered to only one party of short-term renters at a time; not rented as separate bedrooms, beds, or spaces to separate parties
The host and/or agent must be available at all times to respond in person, on-site, within twenty minutes to any issues that may arise regarding the condition, operation, or conduct of the guest of the STR
The Host of the STR shall maintain a record of the number of Guests and the beginning and end dates of each short-term rental. Such records shall be submitted to the Village Clerk by September 30th of the calendar year. Failure to submit may result in a subsequent STR application being considered incomplete and ineligible for the lottery
A host shall prominently display, at all times, the contact names and phone numbers of both the host and the agent, along with the list, issued by the Village, of emergency services numbers and information relating to garbage, recycling, winter parking, and noise
Catskills City Officials Decide Upon Airbnb Laws and Regulations Based Upon Cost of Operation
The Catskill Village Board of Trustees has passed a new short-term Airbnb rental law, requiring a fee when purchasing or renewing your short-term rental permit. With over 1000 vacation rentals in Greene County, New York, Trustee Natasha Law, states that "All businesses are required to have annual fire inspections, health inspections, pay insurance, and other fees in order to be able to operate, so why should an STR be any different?" So, whether you are applying for a short-term rental permit for the first time or renewing your permit, it is important to be aware of the new fees coming your way for Greene County, New York.
All Short-Term Rental Permits will expire within a calendar year from the date of issuance. Below you can find the requirements for applying for and renewing your permit:
Short-term rental describes furnished, self-contained apartments/rooms/residences that are rented for short periods of time (less than 30 days or month-to-month).
You will need two proofs of residency: a copy of your driver's license and a utility bill. A copy of the deed is also required.
If you are not the property owner, a notarized letter from the property owner giving you permission to rent our rooms on the property for short-term rentals will be needed.
The permit fee is $375 per unit. Please provide a check payable to "The Village of Catskill".
After you have paid for your permit, a code enforcement officer will contact you to schedule a full inspection.
If approved, you will receive a permit within 7 days following the inspection.
If you are found operating without a valid permit, you will be in violation of the Village code and will have 30 days to acquire a permit. If at that time you do not obtain one, you will receive an appearance ticket for Catskill Town Court, where you will be charged double the amount of the permit fee per unit.
Permit fee of $375/unit for an initial permit and $125/unit for renewal.
Quote your Short-Term Vacation Rental Today
Interested in protecting your New York rental? Looking for a policy that will protect you and your business from liability and damage claims? Proper Insurance leads the Nation in short-term rental insurance, with over 100,000 policies written in all 50 states. Backed by Lloyd's of London and exclusive endorsements from vacation rental leaders such as HomeAway and Vrbo, Proper Insurance is built on world-class insurance coverage. Proper's policy covers vacation homes, townhouses, condos, duplexes, cabins, cottages, apartments, and more. With expert vacation rental underwriters, we can tailor a policy specific to your short-term rental property.